Aboriginal and Torres Strait Islander readers are warned that the following contains names and images of deceased persons.
Photo: Lisa Bellear's cousin Kim Kruger by Sarah Matray, Leader Newspapers
NAIDOC week 2020 (9-15 November) marks the launch of Warrior Woman Lane, a newly unveiled street name and art installation created to celebrate the life of Aboriginal activist and artist Lisa Bellear. 
Lisa Bellear (1961-2006) was an Minjungbul, Goernpil, Noonuccal and South Sea Islander woman from Minjerribah (North Stradbroke Island, Queensland). Born in Naarm (Melbourne), Lisa was a beloved member of the Aboriginal and Torres Strait Islander community and widely known for her work as an activist, photographer, broadcaster, poet, feminist, politician, comedian, academic and performer.
At the age of 27, Lisa became the first female Aboriginal councillor for the former Collingwood City Council and went on to serve the Victorian Stolen Generations Taskforce and Reconciliation Victoria. Amongst her many achievements, Lisa was also a founding member of Ilbijerri theatre company and presented Not Another Koori Show on 3CR community radio for over two decades.
In 2017, the City of Melbourne asked the Victorian Women's Trust (VWT) to develop a list of notable women to address the gender bias in street naming. After months of research, VWT created Women in the Life of the City, a shortlist of leading women such as Lisa Bellear who deserve wider recognition throughout our community. Warrior Woman Lane was established thanks to the collective efforts of Lisa Bellear's Family, City of Melbourne, Koorie Women Mean Business and Moondani Balluk. The Victorian Women's Trust was pleased to play a supporting role in this important community project.
As Lisa's surname is very similar to Bellair Street in Kensington, her family suggested 'Warrior Woman', words that feature in her poem, Hanover Street Brunswick 3056. VWT recently recognised this poem in an episode of Between the Leaves, a feminist poetry podcast hosted by Mununjali poet Ellen van Neerven and Melbourne writer Hermina Burns.
To celebrate the launch, members of the public are encouraged to view the art installation located within Warrior Woman Lane, inspired by Lisa's life and contribution to the Melbourne community. The installation features work from two Aboriginal artists Charlotte Allingham and Timmah Ball. 
Charlotte Allingham is a 27-year-old Wiradjuri, Ngiyampaa woman from New South Wales, with family ties to Condobolin and Ivanhoe. She currently lives in Naarm (Melbourne), creating Illustrations about her culture and identity, and the impacts of colonisation.
Timmah Ball is a writer and urban researcher of Ballardong Noongar descent. She has written for The Griffith Review, Right Now, Meanjin, Overland, Westerly, Art Guide Australia, Assemble Papers, The Big Issue, The Lifted Brow, the Victorian Writer magazine and won the Westerly Patricia Hackett Prize for writing.
---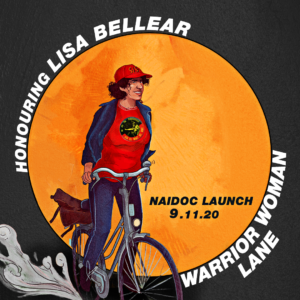 Warrior Woman Lane Launch and Art Installation

Where: Warrior Woman Lane is just off Nicholson St, between Kay St and Alexander Parade, Carlton. We strongly encourage anyone in Melbourne to go and see the tribute. Remember to practice COVID-safe behaviours. 
When: the art installation will be in place until 22 Nov 2020
Find out more: Warrior Woman Lane website, Warrior Woman Lane Facebook page
This project is supported by Lisa Bellear's Family, City of Melbourne, Victorian Women's Trust, Koorie Women Mean Business and Moondani Balluk.