Women For Yes — an afternoon of passion and hope.
On the afternoon of Sunday 13 August 2023, hundreds gathered in the Athenaeum Theatre in Naarm (Melbourne) to launch 'Women For Yes' – a women-led campaign in support of an Aboriginal and Torres Strait Islander Voice to Parliament.
Co-hosted by Together, Yes (an initiative from the Victorian Women's Trust) and Yes23, the event was a chance to hear from both Indigenous and non-Indigenous women about the importance of a First Nations Voice to Parliament, the role that women's activism has played in bringing about change in the past, and the opportunity for women to do so again at the referendum later this year.
It was also the official launch of the Women For Yes Open Letter, which calls on all Australians to show your support for an Indigenous Voice. Everyone is invited to sign.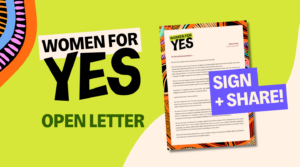 At a time when the vitriol from some segments of the 'no' campaign had left people feeling disparaged, Women For Yes provided a space to join together in solidarity and hope. With a panel discussion, musical performance, and addresses from both the Hon Linda Burney MP, and our Executive Director Mary Crooks AO, the afternoon left people feeling entertained, informed, and energised to keep the Yes movement going.
It's amazing how much was packed into just a few hours. Here are some of our favourite moments from our incredible Women For Yes speakers and guests: 
Welcome to Country
As the lights dimmed and the sound of the audience bubbled down to a murmur, good friends Leanne Miller and Duré Dara OAM took to the podium to welcome us to the lands of the Wurundjeri Woi-wurrung and Bunurong Boon Wurrung peoples of the Eastern KulinCountry. Leanne, a woman of the Dhulanyagen Ulupna Clan, Yorta Yorta nation is the Executive Director of Koorie Women Mean Business and a Board Member of the Victorian Women's Trust (VWT). In addition to her work as restauranteur, percussionist and Chair of Global Reconciliation Australia, Duré is also a longstanding VWT Board Member.
"So I say yes for women, and Women For Yes!"

— Duré Dara OAM, 13 August 2023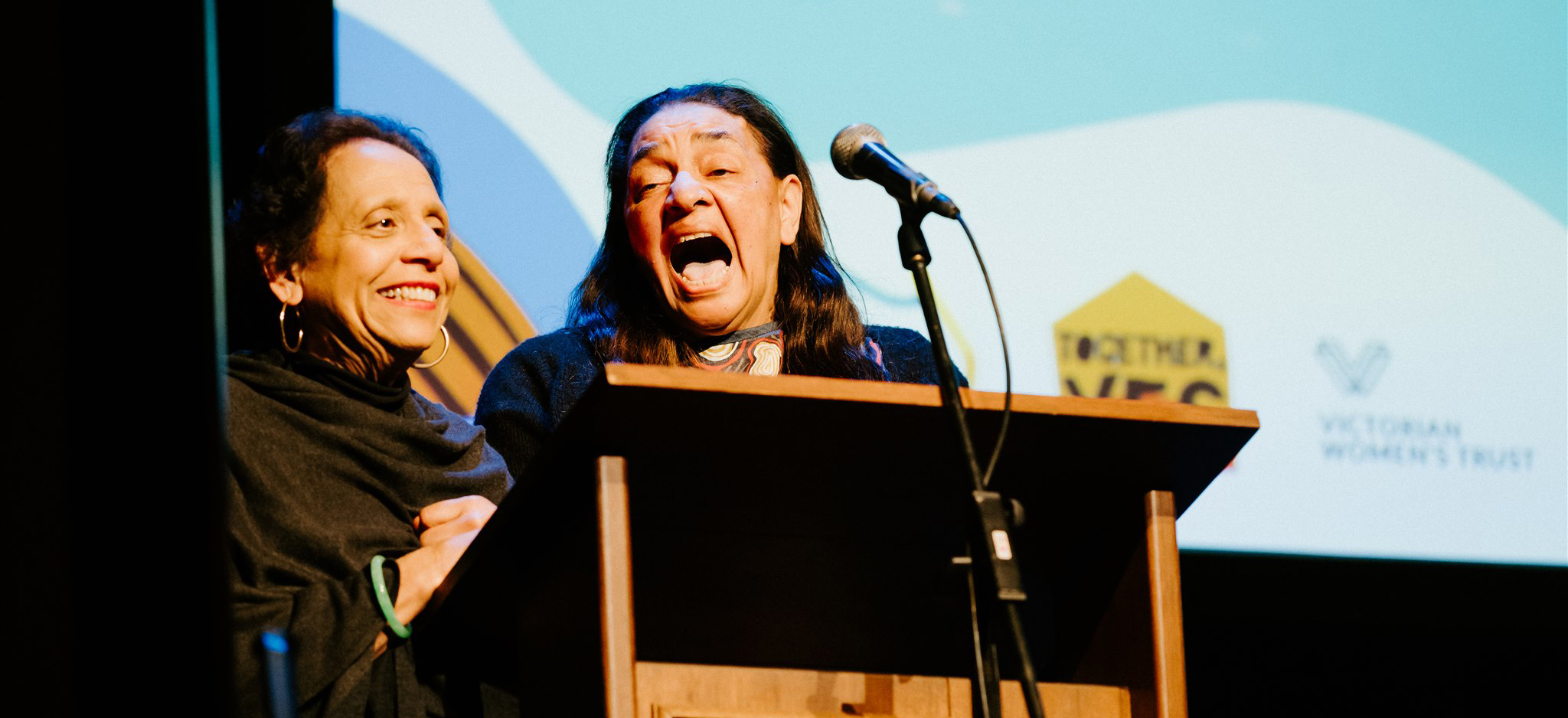 A sing-along with Georgia Fields
Musician Georgia Fields treated us to two songs that fed the soul and lifted the spirits. First, Georgia performed 'Tigress' from her album Hiraeth (2022). A soaring ballad, the song beautifully complimented the event's theme of strong, fierce, powerful women. 
Next, was a cover of the song 'Always' by  the First Nations Indi rock band, Brolga. Brolga's frontman, Uncle Rusty, had generously given Georgia permission to sing it for us on the day. Giving the tune her own personal touch, Georgia invited the audience to sing along with the chorus of 'always was, always will be.' It may have been the excellent acoustics of the Athenaeum, but we sounded pretty good! Singing together about the true origins of the land was the perfect way to unite the audience. 
Hon Linda Burney MP pays respect to the Indigenous women before her
"We have a big job ahead of us, when the First Peoples of this ancient country are recognised, we will have a better country, we will have a kinder country, we will have a more reconciled country. We will look ourselves in the eye knowing that the document on which this country was founded finally tells the truth."

— Hon Linda Burney MP, 13 August 2023
When Minister for Indigenous Australians, Hon Linda Burney MP, took to the stage she was met with thunderous applause and a standing ovation. This was before she had even said a word. Such a reception is indicative of the respect that is held for her by so many women around Australia. What she has managed to achieve as an Indigenous woman in this country is nothing short of remarkable. The opposition she has faced and the obstacles she has overcome are something that we as an audience can appreciate, but cannot truly understand. In her address, the Minister acknowledged the work of Indigenous activists who have come before her.
"This referendum is the culmination of decades of careful work and advocacy on recognition. When I think of this referendum, I think of Megan Davis and Pat Anderson. I think of women like Marcia Langton, along with Pat Anderson, who have given shape to what the Uluru Statement [from the Heart] represents. Their wisdom and strength are leading us along the long road to recognition."

— Hon Linda Burney MP, 13 August 2023
Turning back to the present, the Minister called on us to act. Not just for her people, but for the country as a whole. "My sisters, my brothers. History is calling us." she declared, "Let's get this done together." Hon Linda Burney MP left the stage in the same way she had entered it, to thunderous applause.
A personal panel of wisdom and insight
Alana Johnson AO (Co-Founder, Voices for Indi) was then joined on stage by Wotjobaluk and Dja Dja Wurrung woman, Belinda Duarte (CEO, Culture is Life), Fiona Stanley AC (epidemiologist and family health specialist), Maria Dimopoulos AM (Chair, Safe + Equal) and Ilona Lee (Project Director, Shabbat Table Talks). With such a wealth of knowledge shared between them, 30 minutes did not feel like enough time with these incredible women. Despite the brevity, each speaker shared their own moving, and often personal perspective on women's activism and the Voice.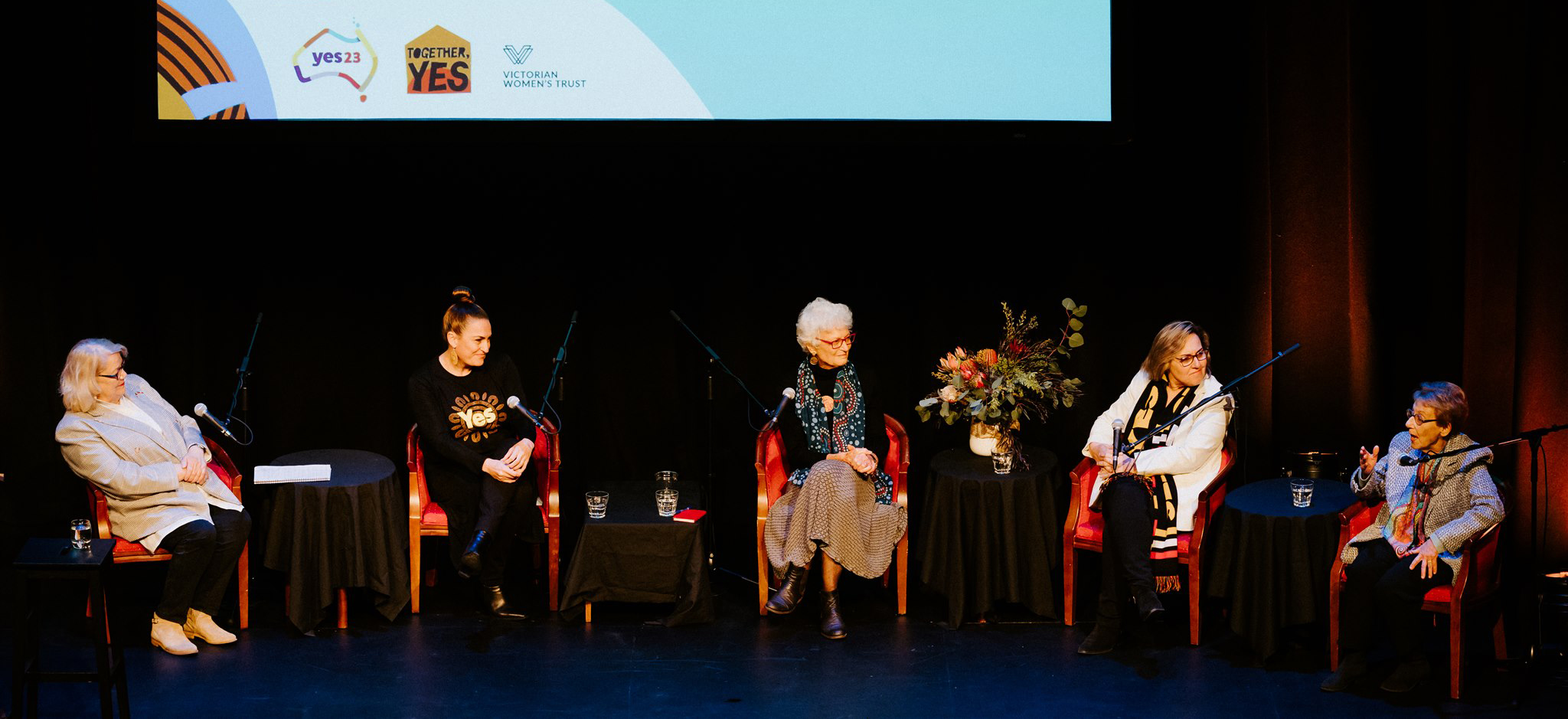 "Time and time again Australian women have proved themselves to be a force to be reckoned with, and this referendum is one of those times. We have to step up and be active."

— Alana Johnson AO

"I want to acknowledge the leadership of women in small family units that are advocating for change for their children. In hospitals. For their experiences in the education system. Many, many First Nations women and mothers are lobbying, and continue to lobby, to make healthy experiences for our children in schools."

— Belinda Duarte

"Aboriginal health is really about land, culture, relationships. It's about love. It's relationships that drive Aboriginal health outcomes."

— Fiona Stanley AC

"The feminist movement really needs to take into account the impacts of colonisation. We as non-Indigenous women need to be aware of how we have contributed and benefited from the ongoing dispossession of land. We need to deeply listen to the offer out there for genuine — painful but genuine — truth telling."

— Maria Dimopoulos AM

"I want to speak from the viewpoint of the jewish community. Jewish communities are always grateful to the Indigenous communities. All people need is an opportunity. And they're grabbing it, and really running with it."

— Ilona Lee AM
Mary Crooks: "We have a unique opportunity before us"
Mary Crooks AO (VWT Executive Director and Project Director of Together, Yes) opened her address with an apology for her energy levels, being somewhat depleted from having cheered on both the Matildas and her Carlton FC the night before. Despite this, Mary launched into a monumental speech that addressed the work of Indigenous women to date, pushing back (politely) against no campaigners, Bill Stanner's work on 'The Great Australian Silence', Paul Keating's Redfern Address, what the referendum will be asking us, dismantling the various arguments of the no case, and the power of women's activism.
She concluded by reading the Women For Yes Open Letter in its entirety, and called upon all of us to unite in signing it.
A brief write up does not do this address justice. Read the address in full or watch it here, in Mary's own words:
Signing the Open Letter
Following Mary's speech, the Open Letter was signed on stage by all of the guests to date. Specials guests Sally Capp AO (Lord Mayor of Melbourne), Julianne Schultz AM (author and academic), Tanya Kovac (writer, lawyer and Co-CEO, Gender Lens Australia), and Supriya Singh (writer and sociologist) each stepped up to the microphone to share their reasons for voting yes. They each then added their signature to the Open Letter.
To conclude proceedings, Alana Johnson AM recapped what had taken place and thanked the many speakers and guests for sharing their time, their intellect and even their personal stories with us. Alana echoed a lot of people when she said that the discussions could have gone on for hours more, as there was so much value and in everything that was discussed. She once again encouraged everyone to sign the Open Letter.
As the letter itself states:
"We take pride in what Australian women have achieved in terms of civic action and nation building, but we can do so much more. We can be part of a forward looking Australia. We want to be part of a new understanding and practical approaches that are underpinned by understanding, respect and fairness."
The launch of Women For Yes was an strong example of what safe, respectful discussion can look like. Where everyone is supported and listened to. Where everybody is there, because they want to make things better. Now, let's bring this referendum home.
---
Women For Yes is campaign initiative created by Together, Yes with Yes 23, energised by generations of women working together for social change. Together, Yes is a harm prevention campaign by the Victorian Women's Trust as Trustee of the Dugdale Trust for Women & Girls. 
Huge thanks to everyone who attended the launch of Women For Yes, our partners and donors, wondrous volunteers, staff, speakers, and performers. Special thanks to the staff at the Athenaeum Theatre for welcoming us so warmly into your beautiful space. Videos are by the talented Gregory Erdstein, and photographs are by the equally talented Breeana Dunbar. Artwork is by Alkina Edwards for Koorie Women Mean Business and the Victorian Women's Trust (2022) and has been used with permission. All printing was supplied by The Print Department. This event was made possible thanks to The Wood Foundation and The Felton Bequest.
CAMPAIGN PARTNERS