Photo: Breeana Dunbar

"Still doing your music?"
The question materialises amidst the social small-talk like a bad fart. Often followed by the statement, "well, I  think it's great you're still putting yourself out there."  
As a self-employed musician and singer-songwriter, I am often on the receiving end of The Question — now  in greater frequency as I approach a "significant birthday" (the number rhymes with sporty, which,  unfortunately I am not). Over the years I have learned to deflect and redirect, letting the line of enquiry ricochet off my thick, and increasingly wrinkled, skin. In what other line of work, even self-employed work, would we congratulate someone for "still giving it a go" as they begin to approach middle-age? Plumbing? Podiatry? Can you fathom asking your 37-year old accountant, "Still doing your money stuff?"  
There's a cultural expectation that a woman in her late 30s will do the dignified thing and show herself out. Even female musicians who have reached the lofty heights of MegaFame acknowledge the music industry's deep-rooted ageism. While accepting her award for Billboard's 2016 "Woman of the Year", Madonna at age 58 said, "the most controversial thing I've ever done is to stick around".
Last week at a gig I received the "Limited Edition Deluxe CD Box Set" version of The Question. This is the version that includes my status as a mother. "Still pursuing music – even with two small kids?" (Side note: I'm not "pursuing" music. It's not an errant ping-pong ball, or a recently escaped convict. I am "working as a musician". Currently. I was literally talking to this person in my workplace.)  
But there is an unspoken subtext to The Question. It's the mutual understanding that working as a musician is not the same as working as an accountant. According to a survey conducted by the Australia Council for the Arts, the median income for Australian musicians in 2019 was $7,200 per annum. What the Asker of The Question *really* wants to know: "how the heck do you eat?" I believe most people ask out of genuine curiosity and care.  
In a world where one Spotify stream pays between $0.003 to $0.005, most musicians rely on live performance to earn a living. Music Victoria's chief executive Simone Schinkel spoke to The Age in January about the sector's post-pandemic recovery. While optimistic, Schinkel acknowledged that the long-term implications are still unfolding. "It's going to take strategic planning, commitment and support to get us  back."
Another cohort disproportionately affected by the pandemic is working mothers, who fell under considerably more pressure than their daddy-counterparts to juggle paid work with caring for children at home. This was all the more challenging for single mothers, low income families, and those with multiple caring roles, such  as being responsible for elderly parents.
According to data from the Australian Bureau of Statistics, at the height of the pandemic women accounted for around 56% of the decline in employment, despite making up less than half of the workforce. Picture if you will, a Venn diagram. In one circle we have working mothers (under considerable pressure)…and in the other we have musicians (also under pressure). In the space where these spheres overlap you will find a veritable pressure-forged diamond: The Musician Mother.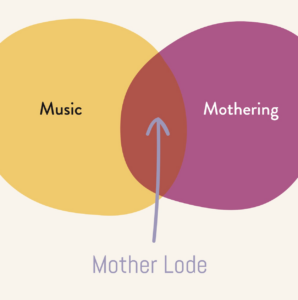 Credit: Cara Whitelaw
For musician mothers like myself, the elusive work/life ratio can feel like an impossible equation. How can I be a fully present parent, and work a day job so we can afford to eat, and maintain my creative practice?  Bonus points if you can do all three and maintain your sanity*!  
*Bonus points cannot be redeemed for Australian dollars.  
When I founded Mother Lode in 2020, I named it after the geological term: "the origin of something valuable and in great abundance". I wanted to create a community where we could collect and democratise all the nuggets of wisdom musician mothers share with each other in band rooms and tour buses. I believe there is  so much gold already beneath our feet, just waiting to be discovered.
I also believe that the forging fires of parenthood offers incredible benefits to our creative practice. Resilience. Dedication. Adaptability. The ability to function, when necessary, on less than 4 hours sleep. These newfound strengths appear when the milk-soaked mantle of motherhood is bestowed.  
Artist mothers often carry a sense of guilt for their commitment to their practice, especially if it isn't financially sustainable. Yet research shows that children of artist parents benefit from growing up in this environment. One study published in the Creativity Research Journal¹ asserts that kids from artistic families demonstrated higher levels of creative problem-solving skills. Children who have artistic role models in their family are far more likely to pick up a paint brush or a piccolo – and a study published in the Journal of Happiness Studies found that engaging in music, art and dance was associated with higher levels of happiness in children and  adolescents.² 
Being a musician is more a job – although it would be handy if it paid like one! Music is our identity, our  compass, our joy – the elixir of our good mental health; our purpose; an essential way to make sense of the  world around us. Music does not stop being an essential component of our selfhood when we become a mother; if anything, its role becomes even more vital as we strive to make sense of who we are in this brave new world of night feeds, threadworm, and book week costumes.  
Creative expression – in *this* economy? Still doing your music?  
The answer to both Questions is: "Yes." 
---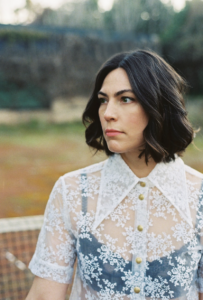 Georgia Fields has been performing, producing and releasing original music for over a decade. A festival favourite, she has appeared at St Kilda Festival, Queenscliff Music Festival, Apollo Bay Music Festival, Mullum Music Festival, Festival of Voices Hobart, NightQuarter Gold Coast and Majors Creek Festival, amongst others. Georgia released her third studio album Hiraeth last year which is inspired by the Welsh word with no direct translation. Hiraeth explores grief, love and "a pro-found longing for a home you cannot return to, as it no longer exists."
References:
"Creativity in the home: The link between mothers' creativity and children's creative output in a sample of American 7 families" by Ritter, Damian J., Damian, Rodica Ioana, McCutcheon, Lynn E., Gomila, Toni, Derks, Peter, and Huang, Liyi.  2012

"Creative Activities as Positive Youth Development: Predicting and Explaining Creativity's Relation to Positive Youth Development" by Martin E. P. Seligman, Tracy A. Steen, Nansook Park, and Christopher Peterson (2005)