Friends, how do we stay safe in 2020, look out for our community, and celebrate our local artists and creatives at the same time?
As of Wednesday 22 July 2020, face coverings are now mandatory in metropolitan Melbourne and Mitchell Shire. Those living outside those areas are encouraged to wear a face covering if staying 1.5m away from others isn't possible. 

These new rules no doubt add to the pressures vulnerable people are already dealing with due to COVID-19 and even though a $200 fine might not seem like a lot to some of us, it can be devastating for some (not to mention police enforcement of those rules).
While throw away one-use masks are useful short term, reusable and cloth masks offer a more sustainable and long term solution to a societal shift which will probably be with us for some time. They can also be beautiful pieces of wearable art that can uplift us during this time. With all this in mind, I set out to find information about organisations that are making sure that everyone can access masks regardless of their situation and also ways to support local makers in our communities. 
Whether you are on the lookout for masks for yourself or thinking about community during this time, have a look at the list below for a place to start.
(Note: the masks below aren't medical grade masks, they are fabric masks that are suitable for community use.)
Acala Stem
Acala Stem is a Melbourne-based not-for-profit company run by a single mother making sustainable masks from a lotus microfibre material. Their supplier is a textile social enterprise which empowers women to work from home with their children in their own provinces, with flexible hours as they are often single mothers like the founder. 
Alperstein Designs
Alperstein Designs masks are made with leftover fabric, royalties from sales support Warlukurlangu Artists Aboriginal Corporation and Munupi Arts artists and their communities. 
East of Africa
East of Africa fabric face masks are handmade in Melbourne exclusively to raise funds to support their staff in Tanzania during the Covid-19 global crisis.
Flat Out Inc
Flat Out Inc have sources for getting masks and are accepting financial donations, this can go towards purchasing masks and other PPE for women affected by the criminal justice system. At the moment they are providing masks, hand sanitiser and gloves to people during outreach as well as using them for their workers. 
Hong Kong Masks Australia
Hong Kong Masks Australia are not selling masks but, "We offer free giveaway HK Masks to the health care worker, the elderly, vulnerable and those with disabilities. You are more than welcome to PM us if you or someone that you know is in need." They also have a fabric mask tutorial on their Facebook page if you're looking for one. 
Masks 4 Aid
Masks 4 Aid (@masks_4_aid on Instagram) produce reusable handmade masks for community-led mutual aid initiatives on the unceded Boonwurrung and Wurundjeri lands of the Kulin nations. Masks 4 Aid send one mask to community and one mask to you if you donate to their nominated charities Warriors of Aboriginal Resistance, AMSSA Youth Centre or Rise Refugees and send them the receipt. 
R E M A D E
REMADE Masks (@remademasks on Instagram) are making masks and donating all profits to the Asylum Seeker Resource Centre (ASRC).
RISE: Refugees, Survivors and Ex-detainees
RISE: Refugees, Survivors and Ex-detainees are urgently requesting funds from the community so they can make masks for those in need. You can read their words on the impact on the new mandatory mask guidelines on Facebook here. You can donate to their emergency appeal to purchase and distribute face masks amongst their community here.
Sanct. Clothing
Sanct. are accepting donations of masks if you're making them or have any you would like to donate. They are working with South East Mutual Aid who work with vulnerable communities. Contact them through direct message on Instagram and via their website. 
Second Stitch
Second Stitch is a refugee and asylum seeker enterprise making reusable fabric masks. Each mask sold is directly providing meaningful employment opportunities for some of the most disadvantaged members or our community.
Sisterworks
Ditto for Sisterworks! Buying one of their fabric masks supports migrant and asylum seeker women to maintain meaningful employment.
Stitched by Megan
You can find Megan's fabric masks on Facebook,  Instagram and on Etsy with $5 from every mask sale going to either The Smith Family or Foodbank. Megan has taught her husband to use the overlocker and sewing machine to help her get more masks out which we love! 
The Social Outfit
The Social Outfit's B1:G1 program distributes one mask through their community partnership orgs if you buy one from them (they restock each morning at 9am but sell out quickly) but you can indicate that you'd like both masks to go out to their distribution orgs.
Theo The Label
Wonderful Esther from Theo The Label has changed her entire sustainable clothing business into a mask making business, making the masks (as well as pulling cotton jersey into strips to use instead of elastic) by herself. Masks are available for pre-order for August.
Trading Blak
Trading Blak have put together a list of Aboriginal owned businesses making fabric masks on Facebook which you can check out here.
Yarli Creative
Yarli Creative are donating 40% of their presale triple layer protective mask profits to Elizabeth Morgan House. 

A few more helpful things:
The sentiment "we're all in this together" is still as true as it was at the start of the pandemic and with that in mind, if you are able, carrying an extra mask or two (of any kind) to hand out to anyone you see caught without is another great way to show solidarity and spread humanity around during this time.
---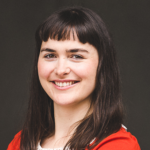 Casimira Melican (Research & Advocacy, Project Manager – About Bloody Time) has been at the VWT since 2015. In 2016, Casimira co-wrote the VWT's menstrual and menopause workplace wellbeing policy (also know as the menstrual leave policy) and has been leading advocacy on the policy since then. Casimira is passionate about the ability for policy and research to have real world impact and empower women and non-binary individuals within our society.