Photograph: Kellie French (The Guardian)
"We have an political, economic, cultural system that is designed to make us fit…There is something violent about a world that requires you to conform to a standard that by definition you can never meet…because the structure does not change for you and fundamentally, the lie that we tell…is that there's something that [marginalised] people can do to themselves to fit in better. The ultimate truth is that there really isn't. There is nothing you can do to fit."  – Tressie McMillan Cottom
***
While I was reading Caroline Criado Perez's book Invisible Women: Exposing Data Bias in a World Designed for Men, I had a dream that I was on a bus. I was crammed into the seat so tightly I could barely move. Sitting next to me was an older woman and we caught each other's eye and sympathised with each other on how uncomfortable we were. She was in a big coat and a fur hat (that must have been the air-conditioning set to the mythical "standard" male) and she lamented to me how difficult it was to get to the bus stop and that these new buses are too high for her to step up into without fearing her safety (hello, world built for man legs!). 
Opposite us were three young men spread out over 6 seats that looked much roomier than ours. They were joshing around loudly, putting their feet up on the seats and showing each other things on their smartphones, that fit perfectly into the palm of their (male) hands. One of them took a photo of me and then laughed and showed his mate. I called out to him that I had seen what he'd done and that I wanted the picture deleted. He said, "It doesn't matter, it's already gone straight to the Cloud.' I pulled out my phone and it was a nokia 3310 and didn't even have a camera or an internet connection and was huge in my hands, I could barely use the keypad it was so wide. There was no way I could call for help and male-designed technology had already whisked my image up into the ether without my consent. 
This was a dream about how I was completely trapped by the failures of design and a world built by men. Invisible Women had clearly burrowed under my skin and deep into my subconscious.
The book covers a dizzying array of topics with such a depth of statistical data that I needed to pause after each chapter just to take in this new world. The back cover says, "Imagine a world where your phone is too big for your hand, your doctor prescribes a drug that is wrong for your body. In a car accident you are 47% more likely to be seriously injured. If any of this sounds familiar, chances are that you're a woman." 
It is infuriating to think about the time and effort spent by people with non-male bodies every single day adjusting to our male-built world. At the same time we are told that we are the problem and that if we just tried harder, that it would be so much easier. Gendered social conditioning aside (though that definitely contributes to the problem), Caroline recalls countless examples where when male scientists, doctors, politicians and experts are presented with evidence that their design or policy doesn't work for women. Time and again, the knee jerk reaction is to change (or blame) women and go back to business as usual, instead of questioning the data and seeking solutions that fit the problem. 
It's important to point out that while this book is a great foundational text on how much we don't know, Caroline rigidly sticks to the gender binary and fails to include those who do sit outside the binary of "man" and "woman". It is not hard to assume that gender diverse, trans and non-binary people in our communities are affected hugely by the lack of data and investment into understanding their experiences. We cannot exclude their voices and experiences from our solutions, regardless of whether we have hard data or not. 
As Tressie McMillan Cottom's quote above shows, no matter how much we try, any individual who isn't an able-bodied and straight-sized man can never fit. This seemingly impenetrable belief that women and non-binary people are the ones who need to change isn't a matter of hurting our feelings. The deep data bias that builds a world for men is harming us, making us unsafe in our homes and on the streets, ignoring our biological differences within medical science and it is killing us. 

Caroline's book also shows us that when we proactively seek a broader understanding of the world, we can anticipate potential problems before they happen. Part VI: When It All Goes Wrong details  the effect that disaster has on women in a way that seems truly prescient given what 2020 has had in store for us,
"When things go wrong — war, natural disaster, pandemic — all the usual data gaps we have seen everywhere from urban planning to medical care are magnified and multiplied…if we are reticent to include women's perspectives and address women's needs when things are going well, there's something about the context of disaster, of chaos, of social breakdown, that makes old prejudices seem more justified. We need to focus on rebuilding the economy. We need to focus on saving lives. But the truth is those excuses won't wash. The real reason we exclude women is because we see the rights of 50% of the population as a minority interest."
We can see the needs of women, gender diverse, trans and non-binary people as a "minority interest" being played out in Victoria and worldwide. Below are just a few examples: 
This exhausting list goes on. 

When Treasurer Josh Frydenberg was designing the JobKeeper package of the six business leaders he consulted with, only one was a woman. When Scott Morrison consulted with heads of industry for the arts package it looks like most of them were men despite the fine arts industry in Australia reaching equity in 2019 for the first time in history. What else can we expect when our Prime Minister, Treasurer, Finance Minister and Commission chairman on Australia's recovery from COVID to government are all men?

This is why at VWT we are looking to a gender-led recovery where women aren't just the afterthought but central to the way forward. In the last few months we have signed two joint submissions, Snap Forward Feminist Policy Network: Submission to Senate Committee on COVID-19 and Joint statement on COVID-19 and the effect on women and gender diverse people. In doing so, we are standing with many other organisations in Victoria and Australia demanding that women including those with disabilities, First Nations women, culturally diverse women, trans and gender diverse people and those on migrant, temporary and student visas aren't left behind again or made to fit. 
I hope to have another dream soon, different to the one that started this piece. I want this dream to be about moving through a world with other women and gender diverse people where men are no longer seen as the default but instead we celebrate and embrace difference and build a world for all of us, and not just a few. Except this time, I'll be awake for it all. 

Further reading:

Thick: And Other Essays – Tressie McMillan Cottom 
Pain and Prejudice: A Call to Arms for Women and Their Bodies – Gabrielle Jackson
Making Disability Modern: Design Histories – Bess Williamson, Elizabeth Guffey (pre-order for 20 Aug 2020)
Shrill: Notes From a Loud Woman – Lindy West
Testosterone Rex: Unmaking the Myth of Our Gendered Minds – Cordelia Fine
---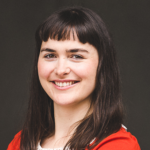 Casimira Melican (Research & Advocacy, Project Manager – About Bloody Time) has been at the VWT since 2015. In 2016, Casimira co-wrote the VWT's menstrual and menopause workplace wellbeing policy (also know as the menstrual leave policy) and has been leading advocacy on the policy since then. Casimira is passionate about the ability for policy and research to have real world impact and empower women and non-binary individuals within our society.