The album imagery for their new album is classic Chicks: Bold, unapologetic and unique. Source: The Chicks official promotional material
On the 25th of June, in the wake of Black Lives Matter protests around the world, the Dixie Chicks officially changed their name to the Chicks. The change coincided with the release of their new song, 'March March' along with a music video filled with film records of historical civil rights protests, as well as images from the more recent Black Lives Matter events. The video was posted on Twitter with the caption: "If your voice held no power, they wouldn't try to silence you." 
The switch from 'the Dixie Chicks' to simply 'the Chicks' came from long discussions about the historical connotations of Dixie, a word used to distinguish the pro-slavery confederate states in the U.S Civil War. The change has earned them the expected criticism from conservative pundits. However, it is also seen by many as an overdue move in relation to a word that has long had a very negative meaning. Hopefully it will signal a continued willingness for the group to continue to grow, listen and be a positive force for change.
I was relatively late to the Chicks. The band (Martie Maguire, Emily Strayer and Natalie Maines) released their first album in 1998, but it wasn't until almost 20 years later that I properly discovered them. I was staying with friends in California and we were going on one of many road trips along busy highways and scenic coasts. I remember the music as clearly as I remember trying black American filter coffee for the first time on one of those drives. And just as I became addicted to the coffee, I also fell in love with the Chicks. 
Aside from the TV show 'Nashville', country music was not something I knew a lot about. The image I had in my mind was that it was a very male-dominated industry. Perhaps this is the reason that the Chicks stood out to me initially. A study done by the University of Ottawa in Canada found that in 2000, around the time of their first album's release, 33% of songs on end-of-year airplay reports were by women. Interestingly though, that number had actually dropped to 11% by 2019. While representation in the rest of the music world seems to be (slowly) improving it has been declining in the country music scene. And one of the reasons for this could be pinned down to what happened to the Chicks in 2003.
Looking back, it's hard to understand how this incident became such an explosive turning point for the band; it just seems so tame. The band were in London for the first date of their European tour, promoting their album 'Home'. They were viewed by many as the era's most significant country artists. At that moment, the US was planning its invasion of Iraq, an event that would eventually come to pass, marking the beginning of a war that would continue for the next decade. In a documentary about the group that was filmed at the time, footage shows the band and their crew looking with horror at news of the US invasion of Iraq right before going on stage. During a raucous moment with the crowd, lead singer Natalie Maines looked at her audience and said, "just so you know, we're on the good side with y'all. We do not want this war, this violence, and we're ashamed that the President of the United States is from Texas." And the rest, as they say, was history. 
In one week, the Chicks' hit song 'Landslide' went from #10 on the charts to #43, and then disappeared completely. Radio stations set up bins so people could throw out their CDs, protesters came to all of their upcoming shows, and bandmates received death threats almost regularly. Eventually, they did release another album 3 years later which focused heavily on their experiences following 2003. This album, 'Taking the Long Way' won 3 Grammys and includes the song 'Not Ready to Make Nice' which Rolling Stone listed as one of the best songs of the decade, but only got limited play on country radio. Effectively, a few words said in 2003 changed their career and lives forever. 
The Chicks' response to the controversy in which they drew attention to the words being used against them. In a way it was one of the earliest examples of internet backlash.
There is a strong history of conservatism in the country industry. This is part of why the Chicks' comments were so controversial. In particular, most female singers and songwriters have seemed to focus on songs about dedicating their lives to the men around them. Songs like 'Stand by Your Man' by Tammy Wynette being one of the clearest iterations of this. Then there is country icon Dolly Parton who has always refused to talk about politics. Even after appearing in the deeply feminist '9 to 5' movie in 1980, Dolly never joined her co- stars Jane Fonda and Lily Tomlin in discussing the broader political message of the film. As she said on the podcast made about her, Dolly Parton's America, "I don't believe that I should offend people that don't have that same opinion by voicing my own opinion". Dolly has also gone on to say that seeing what happened to the Chicks in 2003 only reinforced her desire to stay out of politics. And then there is Taylor Swift, who became most famous for singing about her real life experiences of dating and relationships. In 2012, she told Time Magazine "I don't think that I know enough yet in life to be telling people who to vote for". In 2020, She then went on to echo Dolly as she cited the Chicks' group's experience as being part of her reason for not speaking about politics until a decade into her career. The important part of this being that Taylor did eventually speak out, and is said to have helped inspire almost 65,000 people to vote in the 24 hour period after she posted on social media. All of this goes to show the importance of artists like the Chicks and Taylor in continuing to speak out. But, if change is going to happen, they cannot do it alone. 
In fact, the Chicks are just one example of how, despite country music's conservative history, there have always been some women who have broken from the pack.
One example of this being Loretta Lynn. Although her views have skewed more conservative in recent years, including her public support of Donald Trump, one cannot deny how much she has contributed to changing the discussion around women in country music. In particular, her 1975 song 'The Pill' was basically an ode to birth control and the independence it can provide. A more recent display of someone going to bat against conservative ideals of the industry is Kacey Musgraves, who rather than being overtly political, has adopted a more 'be yourself' approach in her songs. Despite winning a Grammy for album of the year in 2019, Kacey was blocked from multiple conservative radio stations because of her progressive lyrics including a line about kissing 'whoever you are into'.
Through this, what we have seen again and again, is that it is up to us to keep showing up and supporting the women we want to hear. Why would artists keep speaking their minds if we don't tell them (through concert tickets, album sales) that that is what we want from them. I, for one, am totally uninterested in the idea that music should not be political.
With their new album (releasing July 17th) I look forward to seeing more of the honesty and passion that their singles 'Gaslighter', 'Juliana Calm Down' and 'March March' have shown us so far. Especially in a moment like the one we are living through right now, music with a message is more important than ever and the Chicks know this. I also hope that more people can discover their songs and their history. They are by no means the only artists who have taken a political stance, but their position in such a hostile industry and their resistance to backing down even when everyone expected them to, cements them as true rock stars and icons to me.
---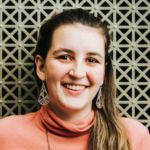 Jess is a volunteer at the Victorian Women's Trust, mainly focused on the communications side of things. She graduated from Monash University in 2018 with an Arts degree majoring in politics and journalism. Jess is passionate about political engagement and education especially when it comes to helping make more people aware of inequality. When she's not doing that, she's mostly reading romantic novels, watching romantic comedies or trying to find the best everything bagel with cream cheese.