Amelia Telford is an Aboriginal and South Sea Islander woman from Bundajalung country and the National Director and Founder of Seed, an offset of the Australian Youth Climate Coalition (AYCC) and the first Indigenous Youth Climate Network. Since Seed's launch in 2014, the organisation has expanded rapidly, becoming a national grassroots network that both connects and bolsters the voices of young Indigenous people. Amelia and her organisation represent a movement within climate activism to position marginalised voices — those most affected — at the centre. 
Amelia emphasises, "It is not only strategic and important we work with people who are directly impacted by climate change, but it is also immoral if we don't." Her tenacity and efforts building the next generation of Indigenous climate activists has earned Amelia the honour of National NAIDOC Youth of the Year, Bob Brown's Young Environmentalist of the Year and the Australian Geographic Young Conservationist of the Year. Voices like Amelia's are essential inside climate activism, as she says speaking to the Guardian "we can't solve climate change without solving a lot of other issues of injustice."
Growing up within a system of oppression often translates to a life of activism, conscious or otherwise. Amelia remembers writing to the Prime Minister of the time John Howard as a child, her first official step as an activist, asking him to change the Australia's national anthem from Advance Australia Fair to the more inclusive We are One. 
Passionate about the health and welfare of Indigenous peoples, Amelia originally planned on becoming a doctor. However, after watching the land erosion in her hometown on the north coast of New South Wales and learning about global warming in high school, Amelia soon realised how much of a threat climate change was to the wellbeing of Indigenous people. Instead of following her medical aspirations, Amelia turned her talents and determination to climate activism, determined to challenge this threat.  
"Aboriginal and Torres Strait Islander people were considered flora and fauna until it was challenged, women didn't have the right to vote until it was challenged, climate change is our challenge but let's get out there and see this as our opportunity to lead our mob towards a happier, healthier, more just and sustainable future!"
As Amelia entered activist communities, she found herself among the few, if any Aboriginal or Torres Strait Islander peoples in the room. "As I started to get more and more involved I noticed that I wasn't working with many of my Indigenous brothers or sisters and there wasn't any sort of program out there that empowers our young ones to take action on climate change."
Climate change, while affecting us all, does not do so equally. 
"The impacts aren't evenly distributed. It's people of colour and people in low socioeconomic communities, women, people who are typically on the margins of society that often face the most severe consequences." 
It was important for Amelia to champion these voices but the same marginalisation that dictated the unequal effects of climate change, also existed within activist networks. As Amelia began volunteering with AYCC in 2009 she noticed something, "Even though I thought AYCC was this awesome youth climate movement in Australia, I realised that it was also incredibly white."
This gave Amelia the impetus to create Seed, an organisation created for and by Indigenous youth. "I couldn't look past the fact that the climate movement was being led by non-Indigenous people and people who weren't on the front line in terms of impacts." Amelia, with the support of AYCC co-founder Anna Rose created an autonomous and independent body, ensuring a diversity of voices and perspectives in the climate movement. Amelia maintains that "We need to approach social movements and build the power of the people in a way that doesn't perpetuate the same systems that have got us here."
While Seed is the first Indigenous youth climate network, Amelia wants to impress it's not a new phenomenon. Speaking to Dumbo Feather Amelia states, "This is something that our mob has been doing for a very long time: looking after our land. For generations, thousands and thousands of years, we've looked after this land sustainably." Despite the wealth of wisdom from First Nations activists, their opinions were overlooked in favour of those in positions of power. "It was when I was learning more about climate change that I started to connect the dots between the loss of Indigenous land, cultures, lives and the impact this was having on our communities" she says. "I realised our people weren't at the table, our voices weren't being heard."
Young people like Amelia are leading the future of activism, encouraging each and every one of us to stand up and act. "It's not enough to wait for others to take a stand and for others to follow through" she says, "we have to look at what our own role is and get out there and start doing it." 
Climate change is often seen as an abstract problem beyond individual change but people like Amelia prove anyone can power climate action.
See Amelia Telford speak at Women Powering Climate Action event at the Wheeler Centre on Thursday 26 March at 6pm. Buy tickets now. All proceeds support Seed Indigenous Youth Climate Network and the Victorian Women's Trust.
---
Rosie Ward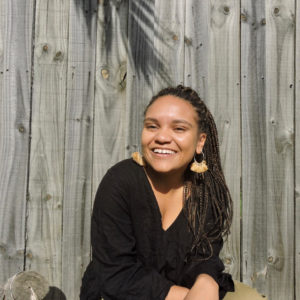 Rosie is studying a Masters of Social Policy at the University of Melbourne while volunteering for the Victorian Women's Trust. She is interested in finding effective policy solutions to gender inequalities. When not doing that you can find her perusing a second-hand bookstore or tending to her growing cactus collection. One day she wishes to change the world through progressive policy, that or find the perfect veggie burger.