In Australia, politics is a toxic place for women. 
Australian women with the temerity to join a political party and get elected into the ranks of its leaders are cat called, denigrated and degraded right in the heart of Parliament. Female members are treated in a way male politicians are not. Sexism is endemic within our political systems and it's impacting the way this nation is governed. There is a deep, continuing resistance to women having power within Australia's political system, which is built on traditions of larrikinism and machismo.  To achieve meaningful cultural change, this tradition must change. 
The news of the day in Australia comes primarily from a male perspective, using male voices. Eighty percent of interview time is dedicated to men on any given day in Australia. 
This makes it easier to ridicule women when they are the focus of a political story – they are vulnerable as anomalies. It is uncomplicated to attack female politicians on the grounds of gender and very often the electorate joins the fray via vile social media posts. 
It is little wonder Australia has slumped from 15th on the World stage for gender diversity in its Parliament, to 50th? The number of women in Australia's parliamentary system is increasing but the rest of the world is racing ahead of us in terms of achieving gender equity. Add to this the fact that Australia's media is dominated by the Murdoch Press which has a dangerously powerful sway over politics in Australia.  
We like to tell ourselves that anyone with the goods, will make it to the top in this Country–regardless of creed, class or gender. But the statistics–and the experiences of women in positions of leadership–do not bear this out. 
Strong Female Lead tells the tale of our only female prime minister and how, over the course of her leadership, her gender was used as a demerit and a point of weakness, which impacted her ability to lead. We use the example of Julia Gillard to tell the story of women leaders more generally in our society–who have so many obstacles thrown in their path to the top, that they too often stumble and fall, or give up from exhaustion in a race they should have won. In turn, we as a people, miss out on the leaders who might have made our lives and nation better. 
Strong Female Lead is a passion project, imagined by myself and editor Rachel Grierson-Johns. It was partly inspired by a photo of a young school girl, holding tight to her 'strong female lead' Jacinda Ardern. In the photo, the schoolgirl gazes up at Ardern with a thrilled expression on her face.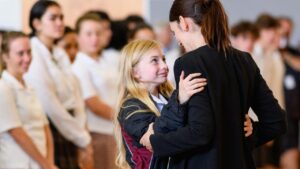 Ardern returns the girl's grip and, though her back is turned to camera, the edge of her own grin is visible. A group of schoolmates are lined up behind the pair, smiling at the spectacle. It turns out Ardern had just delivered a speech at the girls' school where two friends would not be returning after being shot in their mosque. I was transfixed by Ardern's power at that moment to make these girls feel safer and that her power was reflected back in the face of the thrilled schoolgirl-who looked like she may never let go. 
I thought about schoolgirls in Australia whose only connection to their own female prime minister might be via caricatures of a dumpy, pointy-nosed red head with a shrill voice. Older schoolgirls, now women, remember their one female PM more clearly. I started polling their generation for memories of Julia Gillard and heard repeatedly that they thought she was hung out to dry. And that they loved her misogyny speech. 
By walking with Julia Gillard through the three years of her leadership, we increase our understanding of what the obstacles looked like which she negotiated like incendiary devices… revealing the explosives of misogyny and how it continues to shape Australian society. 

The film asks its viewers to consider the screaming examples of misogyny which almost all of us missed–why did we not hear the noise? How were we so convinced the fault was Gillard's, not the forces deriding her? And if we still can't answer these questions–what will happen to our next strong female lead? 
Strong Female Lead should stand testament to a time that will not be repeated because the Australian populous will ask more of its elected representatives, its media and its own populous. In the words of Grace Tame 'let's make some noise Australia': Let's elect ourselves the strong female leads this moment in history requires, not because it's innovative but because it's necessary. 
–
Join Tosca and moderator Nyadol Nyuon as they speak with Mary Crooks AO (Executive Director, Victorian Women's Trust and author, A Switch in Time) and Kerry-Anne Walsh (author, The Stalking of Julia Gillard) at a very special FREE online panel event. 
Thursday 7th Oct, 1pm-2pm AEDT. Bookings are free but registration is essential.