This year for me — like for many —  has been filled with revelations and epiphanies about myself, society and the systems that we exist within. I recently came to the realisation that I have a fear of not being safe; an insidious fear that has permeated a lot of my past decisions, my present, and potentially, this fear will continue into the future. I've realised that this feeling had been reinforced through repeated traumatic experiences of compromised safety in interpersonal and institutional relationships, leaving me frozen in a constant state of hypervigilance.
Working in music and the arts I am unfortunately all too familiar with experiences of compromised safety within institutions. I can't count the number of times I have undertaken a project or said yes to a gig or an interview, only to deal with overt and covert racism, misogynoir or blatant tokenism.
Surprisingly, this epiphany didn't come from yet another frustrating experience with a national news media program or institution that wanted to demonstrate their "diversity" and "wokeness" at my expense. It came to me as I journaled about an ex-partner who had callously admitted that they were initially attracted to my professional success. They also told me that they preferred lighter skinned Bla(c)k women when we first met. This all tumbled out shortly before they broke up with me and walked out of my house, with no intention of ever speaking to me again.
In the days and weeks that followed, I ruminated on the words that had been said and reflected on the casual nature in which this person had inflicted so much harm onto me. I thought of how a few weeks before the break up, a few days after we had both attended a Bla(c)k Lives Matter rally and when I was inundated with reminders of Bla(c)k deaths — reaffirming the potential danger of purely existing while Bla(c)k — they had said that I 'spoke too much about race'.
I realise now that within that relationship I had repeatedly tried to create moments of safety for myself through laborious and sometimes triggering conversations that I had hoped would spur a framework of accountability and open communication. I know firsthand that it can be very confronting to address our own complicity and internalised bigotry. I have had to reluctantly accept that I will continue to make mistakes that cause harm. In acknowledging and accepting that I have capacity to cause harm, I've found I can approach my mistakes in a way that centres the person I've caused harm against, rather than myself. I never expected perfection. I simply thought that if it was explained well enough, anti-Blackness and racism could be avoided within our relationship. But despite my efforts at openness, more and more distance and distrust grew between us.
Since then, I've begun to understand this interconnected trauma response of over explaining in an attempt to find safety. I see now that my need to over-explain is a way to assert my boundaries, to create some semblance of safety within my life, by explaining to others what safety actually means to me.
Living in a Black queer woman's body while navigating a world where whiteness, the patriarchy and heteronormativity reigns supreme, feels to me like a never ending version of Groundhog Day without an option for my own director's cut.
It sometimes feels like I'm forced to wear a dense coat lined with the racist and sexist assumptions, tropes and stereotypes that people have placed upon me purely because of the colour of my skin and my gender identity. It's a continuous cycle of trying to discern whether new people you meet are going to not only hear you but also comprehend what you're saying. If you're in a predominantly non-Bla(c)k space, you often have to consider whether you're making others feel uncomfortable, whereas it's rare that anyone ever wonders whether you feel safe or comfortable. As a dark skinned Black woman, it's being seen as aggressive for being assertive, as though I'm void of any capacity for vulnerability. Sometimes it's being made to feel guilt or shame for any success you might have as it's often conflated with tokenism or a "diversity tick box". It's a confusing mix of feeling invisible, yet hyper-present all at once.
Over the last few months, I've been reflecting on how often people or institutions prioritise the perception of being "good" over addressing the root issues causing harm. A non-Black person posts a black square because Black Lives Matter! but clutches their purse every time a Bla(c)k person walks by.
One might swear by ethical fashion, but think nothing of owning a smartphone crafted with minerals from dubious supply chains. A seemingly progressive institution is created to centre "multicultural voices" and all the marketing reflects this but everyone in positions of power are white. Through these constant performative examples of progression — the antithesis of progress — I've resigned myself to the fact that maybe cognitive dissonance is a part of the human condition.
Although I'll always strive to place an onus on the system before the individual for problems that exist, I still firmly believe that we as individuals also have a responsibility to do the work. So I'm working to create a new paradigm for myself. I'm learning to find safety within myself, because I know I can't always rely on the outside world for that. And I'm fortunate to have forged a bond with an incredible group of friends, both old and new whose souls in many ways resonate with mine and who in many ways have become an extension of my self-made sanctuary.
To me, safety is multifaceted and extends beyond what is tangible. It means different things to different people, yet it is a crucial part of all our lives. Safety is feeling held, seen, heard and respected.
It's a feeling of security walking home at night. It's having shelter, it's knowing you're not alone, it's knowing you'll be okay. Safety is omnipresent yet precarious; it's not always guaranteed, it's created. As an artist, I believe that we create safety by ensuring that all people no matter the intersections of their identity are treated with dignity. Safety means addressing barriers to access, prioritising racial justice, encouraging freedom of expression, and championing joy and collective care.
---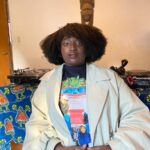 Ayebatonye Abrakasa
is a DJ, Interdisciplinary artist and Founder/Creative Director of Irregular working and living on Gadigal Land. Ayebatonye founded Irregular Fit in August 2018 after noticing the lack of opportunities for growth and connection available to Bla(c)k, Brown and POC folk in the arts industry. Through her arts practice Ayebatonye continues to explore her own understanding of identity through sound, videoworks and curation. As a DJ, Ayebatonye is best known for her eclectic sonic stylings of Chicago house, Detroit techno, gqom and an array of global electronic sounds. Her prowess behind the decks has seen her play at some of the best local and international events, parties and arts institutions alongside some of the world's finest selectors. Recent highlights include the 2020 Mardi Gras  after party, Club Kooky, A Club called Rhonda, Secret Garden Festival, Lost Paradise and opening for The Underground Resistance at Tresor Berlin in late 2019.
Ayebatonye frequently contributes her knowledge and experience on issues within and beyond Australia's arts community providing sage social commentary through her online platforms and speaking engagements. In her new show Four to the Floor: Exploring the Bla(c)k roots of contemporary music she facilitates a unique experience for Bla(c)k artists, community organisers and change-makers alike to share personal insights on music, popular culture, identity, artistic expression and global affairs in an informal setting. Ayebatonye was one of the lead organisers for the inaugural 2017 Women's March on Sydney and was recently invited to speak about the importance of understanding how power structures within the music and arts industries on behalf of Irregular Fit for Red Light Radio in Berlin Ayebatonye sits on the Board of Directors for the Red Rattler Theatre and is part of the Australia Council for the Arts Future Leaders 2020-2021 cohort. Outside of the arts and cultural industries Ayebatonye undertakes community engagement, anti- discrimination and anti racism work.