Illustration Maggie Stephenson
the tranquil Mountain towers overhead, yet remains this side of Heaven
Jade, Cold
On the tenth of March this year, the day after I touched down in Melbourne following two long flights home from Athens, I threw my iChing. I didn't know when I asked for this advice how much the world would change over the next month, the next ninety days, forever. I didn't know that the novel coronavirus we were hearing about on the news would spread as far as it has, that it would trap us inside and kill so many of us. I didn't ask a question about the world, or how to be in isolation, because I didn't know I needed to. Instead I asked my usual question: how can I calm my heart?
Ice, Tree Fruit
The iChing hexagram I threw was number thirty-three: Tun (Retreat). This hexagram consists of the upper trigram of Ch'ien (The Creative) and the lower trigram Kên (Keeping Still). Together, the creative keeping still equals retreating. As always, I felt like it was just what I needed to be reminded of. I was home after a big adventure, I was still struggling with my alcohol use, I was still feeling so many feelings I didn't want to feel about so many things. Retreating had always been hard for me; to retreat completely felt like it would be death. The death of all the things I hoped for and wanted, and the death of experience. Perhaps it is hard for women to retreat completely from expectations: the ones others put on them and the ones they put on themselves, because they are women living in this particular world, after all. I knew that to truly retreat, to do what the iChing told me I needed to do, I would have to tackle those expectations.
Path, Pebbles
I have not succeeded. Even though the world has stopped turning and I have been at home almost entirely since I threw those coins, I have not retreated. Perhaps it might appear that I have: lying in bed, or on the couch, only leaving the house to get enough vitamin D on my skin to stave off deficiency. Missing phone calls, calling back late at night with liquor on my breath, watching so much television I have started to yearn for the characters more than my own loved ones. All of this might make it seem like I have given up, like I have surrendered, but I haven't. As I write this, I want to stop, to delete, and say out loud: you didn't fail, you didn't fail, you didn't fail. That is what we are told to do, most of the time. We are told to be kind to ourselves. I want to retreat, I want to listen to the advice I know I need and stop reaching out around me for everything: validation, approval, the heartbeat of compromise. It has become easier for me to say no as I have grown older, but not to say no to my own heart, my own thoughts. They still control me.
Seed of Fruit, Gnarled Tree
It is too hard for me to imagine a world where women could retreat, could rest inside themselves, without the world trying to get in there with them. Finally, after almost two months of enforced isolation, I am beginning to understand what the iChing meant. The retreat must be an intellectual one, an emotional one, but not necessarily a physical one, though we have that too, at the moment. The fear of life ending without enough experience, that fear can exist, but it doesn't have to be believed. I will take each day now like a hot cup of tea cooling with another on the way, like a rest. If I don't write, if I don't learn something, if I don't exercise and eat many vegetables, if I don't speak to a friend or my family who will all die one day, I don't have to regret it. I have the time and I can take it; I can make my time my own.
---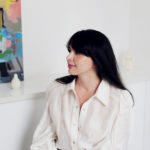 Laura McPhee-Browne is a writer, social worker and counsellor living in Melbourne, on unceded Wurundjeri land. Her debut novel, CHERRY BEACH, was published by Text Publishing in February 2020.
Her writing has appeared in publications such as Meanjin, Island, Overland, Kill Your Darlings, Archer, Seizure, The Suburban Review, LiNQ, Tincture Journal, Scum Mag, and Verity La.