Mary and I met at twelve years ago at a Footscray writing workshop organised by her daughter Wendy. Mary was the oldest person in our group, but had the uninhibited enthusiasm of a school child – the sort that was bursting to share their work, but instead of raising their hand, couldn't help but blurt out what they needed to say. When Arnold Zable asked us to write about an object of special significance to us, Mary wrote about a hand-cranked sewing machine she called 'The wonderful Withers Werthiem.'
Mary explained that her mother had died following the birth of her twin sisters when Mary was just sixteen months old. Her mother's sister, Margery Withers, took her godmother responsibilities over Mary very seriously: "She probably meant more to me than anyone else." Margery had inherited the German sewing machine, and wanted to ensure that her goddaughter had something new to wear to her first job after leaving school.
Margery had an old woollen overcoat – "good quality but a dreary fawn colour and somewhat faded," Mary wrote. "Together we unpicked all the seams and resewed the coat inside out on that old hand sewing machine. I remember the terrible job of managing the bound buttonholes. When it was done, Marge boiled it up in her gas copper with a packet of navy blue dye and – hey presto – I had an (almost) new overcoat! – the first I ever remember having except for a school raincoat."
I imagined the two women – one older, one young – spending winter evenings unpicking every single stitch of that coat, turning it inside out and re-sewing it. Dipping it in a vat of boiling dye, wringing it by hand, drying it out.
The delight with which Mary told us about her aunt's ingenuity was disarming to the younger members of the class. There we all were, a group of anxious writers concerned about reading our thoughts in public, crafting our prose so that it could sound deep or confessional, floored by a simple tale about an act of great love. Here was a natural storyteller – honest and un-egotistical. "I wish I knew what happened to that old Wertheim," Mary chuckled, "Probably still going – totally un-reliant on carbon-producing electricity."
After class, I told Mary how moved I was by her story, and she offered to type it up and send it to me. A few weeks' later, true to her word, I received it in the post. This is how our friendship began – first through letters, then emails, then through lunches at the university where I worked, and later we even went to other writing events together. Once, well into her eighties, Mary drove me to Victoria University to hear a talk by Hannie Rayson and Cate Kennedy, and told me that after the war, the poorest, displaced people lived inside tents pitched along Footscray Road. Where I saw factories and cranes, Mary saw families eking out a subsistence.
Mary attended my thirtieth birthday, and after I met Nick, our wedding. We would visit her in her house in Sandringham with its light-filled kitchen and floor piled up with the Mary Owen papers she was compiling. Mary showed us all the paintings by her famous grandfather Walter Withers and his daughter, her beloved aunt. Most of them were landscapes but there was one particular painting of a beautiful fair-haired child against a dark background. "That's me," said Mary, "Margery painted me."
The last time we saw Mary was at her ninety-fifth birthday at her niece Belinda's house. The house was filled with friends and family – Mary was very loved. Instead of holding court like the grand dame she deserved to be, she was holding our baby son Leo in her lap, making sure everyone was looked after, and introducing her friends to family.
Mary's ability to engage with another person – regardless of whether they were talking with her in an intimate living room or in front of an audience of 400, whether they were those in the upper houses of Parliament or the lower basements of sewing factories, was what made her exceptional, what commanded such devotion from her friends.
Mary had once confessed to me once during a lunch that she had wanted to write when she was younger, and thought she might be good at it, but knew she didn't have the time because there were other things she had to do with her life, things of greater priority, like campaigning for the workplace rights of women. But Mary was a fine writer. She had the very quality Ernest Hemingway said was essential – a built-in bullshit detector.
Eleven years' ago at the launch of my very first book, when Helen Garner was speaking a voice piped up 'Hear! Hear!' I knew exactly who it was. At that stage we had only written to each other twice –when Mary had sent me her story about the Wertheim sewing machine and I had written back to thank her. It was before we'd even met up.
At the signing table, Mary presented me with a copy of my book that she had bought for signing.
"Mary! It's so great to see you!" I said.
"How did you remember my name?" she asked in genuine surprise.
Here was a woman who dedicated her life to helping other women, who had a two-decade long leadership dinner named in her honour, who had inspired the Melbourne Press Club to pass a special law in her honour (which they later repealed), a lady who would think nothing of driving into the city to attend the book launch of an unknown 25 year-old Chinese Cambodian writer – and yet did not even expect to be remembered in return.
But who could ever forget Mary?
She was my friend and inspiration. She was never self-important or grandiose. She taught me how to imbue a story with love.
---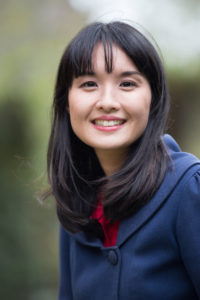 Alice Pung
Alice Pung is an award-winning writer whose books include Unpolished Gem, Her Father's Daughter and Laurinda. She is also the editor of Growing up Asian in Australia and My First Lesson. She has also written for the Guardian, The New York Times, The Monthly, the Age and Good Weekend.
Image: Federica Roselli