Content warning: this article contains information about child sexual abuse that may be distressing. If you need assistance in regards to these issues, please contact support services
Silent Waves is a new Australian podcast looking to address the taboo of childhood sexual abuse and trauma within the institution closest to us all: the family.
"This is my journey of breaking my silence by speaking out about what happened behind closed doors," explains Raquel O'Brien, the podcast's narrator. Drawing from her own accounts, as well as interviews with family members and experts over 18 months, this is an ambitious project designed to tear down the taboo of childhood sexual abuse within families. "To all individuals touched by the secrecy of familial sexual abuse, the silence is not broken until everyone has spoken."
Silent Waves starts by asking the question, "How many (childhood sexual abuse) crimes go unreported because they are considered 'family business'?" There is overwhelming evidence to suggest that the answer to this question is too many. In this question, 'unreported' could easily be replaced with other painfully raw words like 'unspoken,' or 'unresolved'. They all contain the same sad, uncomfortable answer. This podcast unflinchingly shines its light there.
The release of Silent Waves, so close on the heels of the The Royal Commission into Institutional Responses to Child Sexual Abuse, is significant. For myself, and I imagine countless other childhood sexual abuse victims/survivors who were abused by relatives, we watched the Royal Commission clutching a weird bag of emotions.
For me, the Royal Commission was all at once triggering and yet incredibly compelling. I watched through my fingers, terrified that this act of national self reflection would fail. In brave moments, I dared to dream that taboos around childhood sexual abuse were being broken down. I felt buoyed that survivors were getting their chance to be heard and believed, while simultaneously grieved and terrified for those who didn't make it or were reliving their trauma (either through the process of testifying or just bearing witness to it).
I visited the Royal Commission website hoping to plug into this sophisticated framework of trauma informed support, only to discover that the terms of the Commission were clear. This support was for children abused within public institutions.
The vast majority of us abused within the private institutions of our homes would have to continue in isolation. Navigating through our complex, dysfunctional familial networks, within an overburdened service sector and a legal system infamous for re-traumatising victims of sexual abuse and violence. This is why this podcast, and the timing of this podcast, are incredibly important.
By telling her story in her own words and through interviews with family, friends and experts, Raquel O'Brien and her producer Georgina Savage coax out the complex dynamics of familial sexual abuse. Rather than just focussing on the abuser and the abused, the podcast delves into areas like the complex psychology behind grooming children for abuse. The family member quick to believe flimsy lies and slow to take action. An awkward confrontation with an undercurrent of victim blaming that further buries the truth. The victim/survivor's shame and anger, and the impacts on everyone in the family.
As you might expect when dealing with a taboo, the subject matter is without question confronting. I admit I initially hesitated at starting the series a couple of times, for fear of feeling overwhelmed. However, when I finally listened I heard incredibly nuanced storytelling. Both this young woman and her family, show strength and resilience to universalise an experience that is traditionally painfully isolating.
I had concerns going in that the subject matter would be sensationalised, or worse yet, have a familiar hand-wringing tone. The story does in fact have many intriguing elements; a famous footballer, international exile, fraud, suicide and abuse. However, it consistently skews salaciousness by uncovering complex family dynamics as part of the larger narrative to expose childhood sexual abuse.
Recently much has been made of the #MeToo movement's reliance on women's painful first hand accounts of trauma. Silent Waves moves well beyond the confessional. Raquel O'Brien dives deep with the material, especially with her considered use of third party sources. Not only family and friends, but accessing expert opinion from trauma specialists, psychologists and lawyers to contextualise her experiences as part of a broader social narrative.
Raquel's experience with the judicial system, for example, went well beyond personal account. By including interviews with subject matter heavyweights including Cathy Humphreys, Dr Cathy Kezelman, Dr Judy Courtin, and Dr Vivian Waller, it tapped into the growing call for the criminal justice system to come to grips with trauma informed practice. Calls for legal reforms to better support victim/survivors that are also being championed by Australian author Bri Lee and others.
Impressive young women in Australia are grabbing the reins with both hands and demanding a better world, and Raquel O'Brien is amongst them. Listen to this podcast if you are looking for a new feminist hero, and share it's impressive ambition to stare down the stigma of familial childhood sexual abuse.
---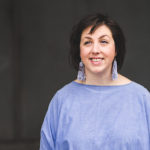 Maria is a Project Manager at Victorian Women's Trust (VWT) where she manages various programs and Trust events. She believes that we can't wait for equality — we have to create it. Maria values inclusivity, resilience, and very shiny accessories.