"We can't find enough women. Where are all the women?"
This question is asked at the Financial Review Westpac 100 Women of Influence dinner, where there are almost one thousand representatives of this gender. The interlocutor is the Fin's business editor, who laments that the paper is perceived as being "too blokey". His pained expression seems to suggest the problem is intractable.
Certainly our Mates Over Merit report, conducted by Women in Media and iSentia, reveals almost four-in-five finance stories are written by men. This is not the fault of our educational institutions, which for 30 years have pumped out mainly female journalism graduates. And it's not the fault of women in the media and business for failing to 'lean in' far enough.
It's a confluence of power and privilege, which structurally excludes women. Witness the private schoolboy institutions like Macquarie Bank, where cutting off a woman's ponytail is a bit of jolly good fun. Or the newsrooms where 'fuckability' is a key factor for female success, while men retain the bulk of plum pipeline roles in business and politics.
So, I breathe deeply before answering Sherlock Holmes' query about The Case Of The Missing Women.
This particular editor takes the path of least resistance: blithely hiring blokes, and quoting fellow members of the boys' club, because it's easier. It's unconscious bias, writ large. His finger-pointing at the banks for only recommending male talent doesn't ring true. For all of its faults, the financial services industry is desperate to promote women. (Or at the very least appear to be female-friendly…)
Then there are the twin pressures of trolling and toiling: women are shot down for putting their heads above the parapet, or too busy doing unpaid work to 'waste time' being interviewed. It's a complex set of factors with a simple solution: targets to amplify women's voices.
(Interestingly, female journos are twice as likely to quote female sources as male journos.)
Both the BBC and Bloomberg have set such strategies. Former Bloomberg editor Matthew Winkler demanded at least one woman be interviewed for each enterprise story – a quota for quotes. And the BBC is aiming for 50/50 gender representation on air by 20/20. Already, the revelation of a wide gender pay gap at Britain's national broadcaster has prompted one well-paid man to stand aside from his prime-time hosting role to make way for a woman.
But we also need easy-to-use lists of female 'talent' so time-poor reporters avoid the usual suspects. This is what makes the directory Here She Is! from the Victorian Women's Trust so important, especially in raising the profiles of marginalised women. Our new Women in Media website, being launched next month, will also contain links to databases with a diverse range of women.
Still, we should confront an uncomfortable question: Are white women slowly becoming the new white men?
At the vast majority of conferences, I look around and see women like me: a homogenised group of able-bodied, cis-gendered, heterosexual people, pale with privilege.
The problem with power is not only that it corrupts. It is, as historian Henry Adams attests, "a sort of tumour that ends by killing the victim's sympathies". An article this week in The Atlantic highlights research by psychology professor at UC Berkeley, Dacher Keltner. He's found subjects under the influence of power, "act as if they've suffered a traumatic brain injury… becoming less adept at seeing things from other people's point of view". And Sukhvinder Obhi, a neuroscientist at McMaster University in Ontario, says power, "impairs a specific neural process, 'mirroring', that may be the cornerstone of empathy".
Through Women in Media, we're trying to tackle this by speaking to CEOs about inclusive strategies, funding scholarships for mid-career women from different communities, and diversifying our own structures and committees. There are also personal pledges we can all consider, including boycotting events with little diversity, giving up our place on panels to women of colour, and asking to hear from those who are marginalised.
Writer, speaker and appearance activist Carly Findlay has some sage advice.

"Don't take on a story about a marginalised person or their issues if you know there's someone in that community who could write it," she says. "If you have an audience, tell them about women they might not have heard from before. Share work from LGBTIQA people, women of colour, disabled women and CALD women."
In other words, don't act like privileged white men. Refuse to take the path of least resistance. In fact, #SuggestASister to take your seat. And use the wonderful resource offered by the Victorian Women's Trust.
The day after the 100 Women of Influence event, I email our friend the business editor with some suggestions. He responds with a brief, "I'll look into it". I'm yet to hear back. It seems he may never solve the millennia-old mystery of the 'missing women', until he chooses to look outside his own pocket of privilege.
---
The Victorian Women's Trust's directory of women is now available. Here She Is! features hundreds of successful women with a range of backgrounds, disciplines, and professional expertise. Find talent or create a profile of your own.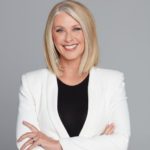 Tracey Spicer is an iconoclast. The television, radio, newspaper and online journalist is now a highly sought-after writer, speaker and trainer. Renowned for the courage of her convictions, passion for social justice, and commitment to equality, she also has a wicked sense of humour. During her 30-year career, Tracey has reported for, and anchored, national news, current affairs and lifestyle programs for ABC TV, Network Ten, Channel 9 and Sky News. Currently she works as a weekly columnist for Fairfax, presentation trainer for Outspoken Women and the Australian Film, Television and Radio School, and media trainer at Spicer Communications. She appears regularly as a commentator on ABC TV and Channel 9.