Last month I took a taxi from Docklands to Southbank. My taxi driver was a middle-aged man named Yohan from Ethiopia. I am South-Sudanese born and, as so often happens when you share an African background, he started a conversation with me. We talked about the Ethiopian New Year which takes place every September and about his life. Yohan said he had worked in the corporate sector in East Africa, and when he arrived in Australia, he was confident he would find work in the same industry. However, many years later Yohan still drives a taxi to support his family.
Yohan's story is common and will be familiar to many migrants. He is university educated, has corporate experience and speaks fluent English. He is passionate about returning to a field of work where he can utilise his skills, talents and education. So why is Yohan having trouble securing meaningful employment in the Lucky Country? I wanted to ask questions, but it was a short drive. We arrived in Southbank and I wished him well.
A week later, I met a group of African Australians, a married couple and their friend. Somehow, Yohan's story came up again, albeit in a different form. Everyone in the group was bright and motivated with postgraduate qualifications. They were also all grossly overqualified for their current roles. One of the women, Esther, told me that she has a Master's Degree in International Relations from Cameroon (Africa) and a graduate certificate in community development from a university in Melbourne, and yet, she is working in the aged care sector in a position requiring a Certificate III from TAFE.
This is not a coincidence. I have an African background, I graduated with a Masters, and I was able to secure professional employment straight out of university. However, my circumstances are quite different and, I think, telling.
As part of Leadership Victoria's unique development programs, I conducted an employment survey of university educated Africans who arrived in Australia over five years ago. A majority of the respondents said they had either experienced underemployment or, like Esther, were overqualified for their role. The principle theme that emerged was university educated African migrants are bringing advanced expertise to Australia, only to have those skills overlooked and underutilised. Many of the participants accepted whatever job they could get in order to support their family. One participant arrived in Australia on a skilled migrant visa with qualifications in industrial and applied mathematics and ended up working as a manual labourer.
There are many reasons why African migrants are underemployed and overlooked in Australia. One is privilege. And by that, I mean unconscious bias and privilege.

Tina Kuek | @tinakuek
Recently, a European friend of mine resigned from his job because he felt his career was not progressing. He was able to secure a managerial position at another company before his notice period was up. When we spoke about it, he did not realise what a gift his certainty was. And why would he? He has never known any different.
The truth is that while we have robust anti-discrimination laws, job seekers from English speaking countries are rewarded for their place of birth.
An analysis by the Australian Bureau of Statistics (ABS) found that over 50% of young educated migrants from English speaking countries were able to find professional level jobs within a five-year period (2011-2016), compared to just 24% of young educated migrants with non-English speaking backgrounds. It is important to note that this barrier existed even for migrants who spoke English at a very high level. In other words, chances of employment are drastically reduced for people from Ethiopia compared to people from the United Kingdom.
Another reason for the underemployment of African Australians in the Australian professional workforce is a lack of local networks. Professional networks are notoriously difficult to penetrate for even local-born Australians, let alone migrants. Most do not have the school, university and family connections that enable entry into professional circles. This is probably one reason my own employment circumstances have been different. I have been in Australia from a young age, attended primary school and university here, and I have wide social and professional circles. If I arrived in Australia now – even with my qualifications and experience – it's doubtful that I'd have the same professional success, especially if I were only educated overseas. And when I say overseas, I mean in Africa.
The good news is there's some practical ways we can help prevent the underutilisation of African migrants. Firstly, we can bring them into our networks. In fact, this is something we should all do.
Look around your personal and professional networks, understand and acknowledge how important they are to your success, and ask who's not in them. If they're very same-same, make a conscious effort to bring others in.

Tina Kuek | @tinakuek
This could be as simple as inviting them to an event or as extensive as formally offering to mentor them. Either way, we can all do something to knock down the walls. Being part of a group is one of the most powerful ways to facilitate employment.
Another practical thing we can do is assist African migrants with the Australian recruitment system.
I recently met a woman who arrived in Australia with twenty years' experience in the public sector in Africa. Her resume was five pages and filled with valuable experiences, yet she could not even get an interview in her field. We worked together to restructure her resume and cut it down to two pages. I guided her on how to answer selection criteria questions and briefed her on what Australian recruiters are looking for. This made a huge difference and she is now employed full time in the non-profit sector. Gate keeping can come in many forms, so can gate opening.
To help others in the community I have founded a non-profit – Kazi Victoria – which is committed to reducing underemployment. We help people with a migrant or refugee background navigate the Australian recruitment system through support in resume writing, interview preparation and connecting people to mentors. Other great resources include the Victorian Women's Trust's Here She Is directory, which features hundreds of women with diverse backgrounds and showcases their talents and successes as a way to encourage more representation of women at conferences, in leadership positions and the media.
Moving forward, I am committed to doing what I can to further the professional employment of African Australians. I am committed to this both because it is right, and also because, as a country, we are missing out on the skills and expertise that so many migrants bring to this country. When the Greeks, Italians, Chinese and any number of groups of migrants came to Australia, they were underestimated and their countries of origin were negatively stereotyped; let's not do that again. Yohan deserves better than that. So does Esther. And we all benefit from it.
---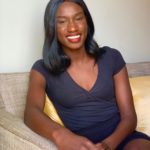 Tina Kuek is a Senior Policy Officer at the State Government of Victoria. She is also a freelance writer and social entrepreneur. Prior to her role in government, Tina worked for the United Nations and the Department of Defence. She has also worked as a Humanitarian Case Worker assisting newly arrived refugees with their settlement in Australia.
Tina's personal interests include Instagram, fashion and travel. She has been to all continents except Antarctica and her prized possession is Barack Obama's business card. Tina speaks three languages, is on the Executive Committee of Girl Guides Victoria, and she is a volunteer for HerSpace, Melbourne.