For far too long, our government has carried out an incredibly harsh humanitarian policy that has continually placed women, men and children in life threatening situations. Despite being a signatory to the United Nations Convention Relating to the Status of Refugees and Universal Declaration of Human Rights, our government has continually chosen to neglect Australia's responsibility to protect people seeking safety.
Since offshore processing was first implemented in 2001, countless reports have emerged detailing incidences of violence, sexual assault, physical and psychological harm inflicted on women, men and children under Australia's care. Yet there have been few attempts from our government to improve the situation.
Our government's indifference to this problem not only continues to place asylum seekers in helpless situations, it has worsened the state of powerlessness that the Australian people have felt in response to this issue.
The formal closure of the Manus Regional Processing Centre last year, should have come as a sign of better things to come, but it has served as another example of the devastating impact of our humanitarian program. Not too long ago, we witnessed hundreds of people being forcefully removed from a detention facility where health services and access to food and water had long ceased prior to closure.
Today, our asylum seekers continue to suffer deplorable conditions and despite Australia's longstanding agreement to almost every universally recognised human law, our government is proposing refoulement, deportation and repatriation as the way to resolve the asylum seeker issue.
For the asylum seekers that have obtained bridging visas, the government's recent decision to cut funding to Status Resolution Support Services (SRSS)  presents yet another display of our governments lack of commitment to taking human rights seriously.
This current trend in Australia's humanitarian policy is only going to place more and more people in life threatening situations, prolong processing periods and diminish the hope of people who (just like us) have every right to seek safety.
In a report released by Australian Women in Support of Women on Nauru, one survivor of sexual violence in Nauru's detention facility shared: "this is reason I left my country – this fear of rape – I see it happen to many".  [1]
This woman's experience tells us that not only are offshore detention centres unsafe for women, they re-expose them to the very dangers that have caused many to flee from their countries and disturbingly, this is precisely the effect our government has been working towards.
The use of offshore detention facilities, the harsh policies, the human rights abuses, the fear campaigns and the silence that surrounds it all – have all played into what frankly is an agenda no different to that of the White Australia policy –  one to prevent non-white immigration.
Abyan, a Somali woman pregnant with the child of her rapist shared: " I have been very sick. I have never said that I did not want a termination. I never saw a doctor. I saw a nurse at a clinic but there was no counselling. I saw a nurse at Villawood but there was no interpreter. I asked but was not allowed to talk with my lawyer". [2]
Abyan's case is not a single story. Victims of horrific crimes, some reported and most ignored –  are denied adequate treatment and made to suffer indefinitely before it becomes available.
Clearly, not much is 'humanitarian' about our humanitarian policy. Our government's lack of commitment to protect people seeking asylum is harming women, men, children and not to mention, our integrity as a nation that prides itself on principles of 'fair go', multiculturalism and democracy.
Its time to stop the violence. It's time to end the silence and it's time to stop the racism. We MUST hold our government accountable for the decisions it is making on our behalf and we MUST hold ourselves accountable for giving them the power to do so because this inhumane treatment is far from the national consensus on how we treat anybody, let alone people seeking safety.
[1] Bacon, W, Curr, P, Lawrence, C, Macken, J, O'Connor, C 2016, Protection denied, abuse condoned: women on Nauru at risk, Australian Women in Support of Women on Nauru, p.2.
[2] Allard, T 2015, Refugee rape victim says immigration minister Peter Dutton is telling lies about abortion. Retrieved Dec 15th from https://www.smh.com.au/politics/federal/refugee-rape-victim-says-immigration-minister-peter-dutton-is-telling-lies-about-abortion-20151018-gkc21y.html
---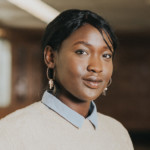 Emmanuela Noi
Emmanuela is a volunteer at the Victorian Women's Trust. She is passionate about gender issues, particularly those affecting women of culturally and linguistically diverse backgrounds. Emmanuela is studying a Bachelor of International Development and would love to travel more.