Michelle Pereira is a Melbourne based illustrator whose work conjures up an intergalactic dream-verse where cool and confident women stand tall against a backdrop of vibrant colours and geometric shapes. With her distinctive colour palette, she creates a cinematic universe where everything is lush.
Michelle has crafted a series of illustrations for our upcoming book, About Bloody Time: the Menstrual Revolution We Have to Have, showcasing women and non-binary people from many different backgrounds.
The subjects in her art dare to be; whether they're moving amongst other women or staring purposefully into the distance by themselves. When they're together, they exist in a meditative plane of thought, conscious of one another.
We talked to Michelle about the women of her art and what it's like being a part of the About Bloody Time book:
Describe yourself in three words
Short and sweet… haha, can I say that?
What are your motivations for getting involved with About Bloody Time?
I can completely relate to grappling with "period issues" in my early adolescence.  The stigma and hush-hush nature of the subject put an additional layer of confusion during an already confusing time of transition, one that could have easily been avoided if ready information was provided (like this book!). It's been exciting to be part of a project that actively attempts to dismantle the ignorance and societal prejudice that still persists around the topic of menstruation whilst also being an approachable reference for young women.
Women from all kinds of backgrounds, GNC people and their bodies are the focus of many of your images. Tell us about that.
It's important for me to convey the reality of the world around me. Women from various backgrounds and GNC people make up that world.
What was going through your mind as you were making these artworks for About Bloody Time?
I wanted to make sure I was able to capture a sense of strength and unity throughout all the images.
Finish this sentence: "Periods are…."
Periods are perfectly normal.
---
We're excited to feature Michelle's artwork in the VWT's new book about menstruation About Bloody Time: the Menstrual Revolution We Have to Have. You can check out more of Michelle's work here.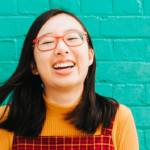 Casey Duong
Casey is studying Arts/Law at Monash University and volunteers at the Victorian Women's Trust, working on capturing stories for VWT's upcoming annual report. She is passionate about storytelling and is always wondering when she'll eat her grandma's spring rolls next.