A new wave of period activism is a-flowin' (ha) around the world. High on the agenda is tackling period poverty to support  the millions of people around the world who can not afford menstrual supplies, promoting sustainable alternatives like reusable menstrual cups in the face of climate change and campaigning for greater awareness of periods in the workplace, schools and life in general.
Menstrual activists  are united in fighting for drastic change in the way we think about periods. Reimagining menstruation as something positive and worthy of celebration, undermining the pervasive negative attitudes  so  ingrained across cultures.  You can help.
Here's a snapshot of menstrual activism from around world and ways you can get involved:
Bloody Good Period began with Gabby Edlin.  Food banks across the UK often lacked sufficient supplies of menstrual products for those in need, and she was going to do something about it.  While period supplies are a necessity, they can be an expensive luxury too often out of reach for many experiencing financial hardship, who must often improvise with toilet paper, pieces of material, or nothing at all. What started as a call to arms on Facebook became  an enterprise now supplying products to 25 drop-in centres across London and Leeds. They sell some cute period merch, and host some pretty rad fundraising events, panel discussions on sex and body positivity and all Femme Jams.
You can grab one of their groovy gifts here.
Pink Parcel is a monthly period product subscription service that did some research, and found that a whopping 92% of period advertising is from a binary perspective. Pink parcel wanted  to represent diverse menstrual experiences to normalise periods and smash the menstrual taboo for all people who menstruate.  Last year, they launched   'I'M ON' featuring 23 year-old Kenny Jones, the first ever transgender male to appear in a menstrual advertisement. The campaign  challenges period stigma with colourful fashion items,  splashed with  positive alternations of the common phase 'I'm on' (to describe being on your period),  like 'I'm on the up' or 'I'm on cloud nine'. What's more, about $7 from each item sold goes to Bloody Good Period.
You can get one of their t-shirts here.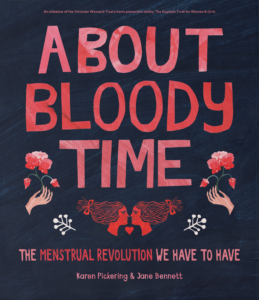 Since 2013, we have been researching periods and menopause to shift the conversation to positive. We began by surveying over 3,500 people about their experiences of menstruation and menopause. Our goal was finding the commonalities in this shared experience and the taboo's impact on our health and wellbeing.
The results are in.  Our findings  are analysed and thoughtfully reworked in our book, About Bloody Time: the Menstrual Revolution We Have to Have. Written by feminist organiser Karen Pickering and renowned Australian menstrual educator, Jane Bennett, you can get yours on June 5.
As a charity, we rely on community support to make these things happen, which is why we ran a Pozible campaign for the final stage of this project: publishing. Buy your copy and ensure About Bloody Time's wide (and necessary) distribution.
Sidenote: this project also lead to the introduction of a Menstruation and Menopause Policy at our office, the very first in Australia (but hopefully not the last!). Our policy template is available to download here.
Period. End of Sentence (2018)  is a powerful short documentary directed by  Iranian-American director, Rayka Zehtabchi.  And it's making a statement: period stigmatising needs to stop. Period. The documentary follows a group of women  in rural Northern India who started  sanitary pad business, The Pad Project,  to reduce period poverty by providing products to those in need and tackle the period taboo. The film itself is now raising much needed awareness of diverse menstrual experiences across the globe. Particularly, how in India, the stigma is so deeply rooted that menstruating can mean missing out an education or  a job. Winning an Oscar for Best Documentary Short Subject  and taking home more than 10 others since  release, it's a must-watch.
You can donate to the Pad Project here.
The Cup Effect is an organisation raising awareness about the benefits of menstrual cups through CupAware parties in partnership with Bloody Good Period. The parties, mimicking  Tupperware parties, are get-togethers individuals can  attend or host, to get 'cup-confident' and learn all things menstrual cups. The proceeds are then paid forward to arm asylum seekers, refugees and other individuals  facing period poverty with  cups and cup-confidence. The Cup Effect  works with schools, universities and other organisations across the UK, as  well as  partners  in Kenya and Malawi  to raise cup-awareness and distribution among low-income communities.
You can support their work here.
Chella Quint, writer, researcher and comedian, founded #periodpositive from her menstrual education project  to counteract period stigma. Chella is rewriting traditional menstrual education by working with schools to  tear down the  secrecy  and shame around periods, by empowering students and teachers to  be #periodpositive. Her message is that while periods can be painful and annoying and not everyone feels positively about them, menstruating should not be invisible, and  not  parents,  teachers nor advertising should dictate  your experience your own period.
Find out how you can get your school or organisation involved in the movement here.
Menstrual activism has taken flight in  compelling and powerful forms across the world. On top of these amazing orgs,  individual women are shedding light on the period taboo,  acting out against outdated attitudes, and sparking valuable conversations.

Take a look:
In 2015 musician Kiran Gandhi ran the London Marathon whilst free bleeding. Getting her period the night before, the drummer decided that running a marathon with a tampon would be uncomfortable. Instead, she would raise awareness about period poverty and make the statement that women shouldn't feel embarrassed about menstruation. Kiran used the marathon to say I am here, I am a woman, I bleed and I'm not going away.
I ran with blood dripping down my legs for sisters who don't have access to tampons and sisters who, despite cramping and pain, hide it away and pretend like it doesn't exist. I ran to say, it does exist, and we overcome it every day.

KIRAN GANDHI
If you haven't heard of her, Rupi Kaur is a 25 year old Indian-born Canadian poet, illustrator, writer, New York Times bestseller and Instagram sensation for her vulnerable and thought provoking poetry about womanhood, identity, empowerment, strength and representation. In 2015, she broke the internet by uploading a series of photographs about menstruating, herself as the subject. Instagram swiftly removed the photos from the platforms claiming ill-alignment with their Community Guidelines. Uploading a screenshot of their response, highlighting Instagram's double standards which deny the existence of menstruation, the series was  returned to her account in full bloom. Rupi's refusal to back down has helped to pave the way for breaking down the shame, by demanding menstrual visibility and  starting more meaningful conversations.
Their patriarchy is leaking. Their misogyny is leaking. We will not be censored.

Rupi Kaur
The responses to menstrual activism around the globe been overwhelmingly positive. This sends a strong message  that menstruation and menopause are  normal parts of biology, not to be treated with disgust or awkwardness, but  with understanding and compassion.
Although symptoms can be debilitating, we're hushed from a young age, taught to deny the existence of our menstruation at home, at school and in the workplace. This has gone on too long. A crucial change to our perception of menstruation is needed if we want to achieve gender equality.
Sparks of activism are igniting across the world, and people everywhere are no longer accepting the demonisation of a natural and normal process. We are reclaiming it. We're in the midst of a menstrual revolution which will provide people with the right tools to challenge pervasive beliefs will help to transform society for the better. Period.
---
Alice Chambers
Alice is a volunteer at the Victorian Women's Trust and studying media and communication. She is passionate about gender equality and believes it will not be achieved until the struggles of all kinds of women are heard. She is also passionate about pizza and her dog Scout.