The Victorian Women's Trust (VWT) Board has always featured community leaders who are ambitious in their feminism, ready to take our message of gender equality even further. In times past, we have welcomed one new Board member at a time, however, in this instance we will be extending our warm and enthusiastic welcome to four new Board members at once. Excitement level: high. Covering diverse areas such as women in tech and gaming, female entrepreneurship, rural leadership, community and law, each appointment brings new skills and experience to the Trust, while carrying on the legacy of our dedicated Board members who will be stepping down.
Chair of the VWT Board, Alana Johnson, said, "the board of the Victorian Women's Trust is home to big ideas, leading thinkers and passionate change-makers. As we acknowledge their contribution and farewell Padmini Sebastian, Teresa Tjia and Patricia ni Ivor, we are delighted to welcome to the board Ruth McGowan, Leena van Deventer, Sheree Rubinstein and Azmeena Hussain."
As we usher in a new era of governance at VWT, it's worth reflecting on the values which continue to hold true. "The Victorian Women's Trust is the leading independent advocate for women and girls," Alana said, "Established in 1985, we're known for being outspoken, progressive and innovative, as well as strongly feminist, agile and independent. These qualities are reflected in each of our Board members, old and new."
In no particular order, we are delighted to introduce:
Azmeena Hussain: Senior associate, Maurice Blackburn lawyers
Azmeena Hussain is a woman of many talents. A lawyer at one of Melbourne's top firms, she is also a Board member of Intouch Multicultural Centre against Family Violence, an AFL Multicultural Ambassador, and she also sits on the board for the Islamic Museum of Australia. On top of that, Azmeena previously held the role of Advisor to Victoria Police, Chief Commissioner's Human Rights Strategic Advisory Committee.
"I look forward to working with the Trust to empower and engage all women, in particular new Australians," says Azmeena. "Women from culturally diverse backgrounds are no doubt the most vulnerable members of our community, and fighting to ensure every women has an equal platform to be heard and contribute to society is the easiest reason to get out of bed each morning."
Leena van Deventer: Writer, Game Developer, and Activist
Leena van Deventer is a familiar face in the tech scene in Australia and around the globe. Co-founder and director of WiDGET (Women In Development, Games & Everything Tech), a grassroots intersectional not-for-profit organisation that supports women game developers, with over 800 members, and co-author of Game Changers: From Minecraft to Misogyny, The Fight for the Future of Videogames, Leena is a strong voice for women in STEM.
"I'm deeply honoured to be on the Board of Directors at the Trust in the fine company of these amazing women who work tirelessly to improve the lives of women in Victoria in concrete and tangible ways," she said. "As someone who was born the same year the Trust was founded, I'm thrilled to bring my experience and perspective regarding technology and the arts to my tenure there."
SHEREE RUBINSTEIN: co-founder and CEO of One Roof
Sheree Rubinstein was once a corporate lawyer working at one of Australia's top tier firms. Today she heads up One Roof, implementing female-centric co-working spaces and educational workshops across four cities. One Roof has a simple overarching goal to nurture female entrepreneurs.
"I'm very excited to be joining the VWT Board," says Sheree. "Everything I do is about supporting women and advancing gender equality, which aligns perfectly with the incredible work and initiatives of the VWT." Sheree was first introduced to the Victorian Women's Trust nearly 5 years ago. Since then, she has volunteered writing articles for Rosie, found a mentor utilising the Here She Is directory and was a panel speaker at Breakthrough 2016. "I feel honoured to take a more active role in supporting the Trust."
Ruth McGowan OAM: trainer consultant and coach to local government
Ruth McGowan hails from rural Victoria where she runs her own consultancy. She has a wealth of experience as a past councillor in local government, and for many years has been involved in campaigns to encourage more women to stand for council elections. More recently, Ruth has worked to improve recognition of women in the Australian Honours system.
Trained as an agricultural scientist, Ruth has lived most of her life in rural Victoria and is a mother of three adult children. "I'm keen to contribute a perspective on issues facing rural women to the Victorian Women's Trust," said Ruth.
Our talented new Board members will ably direct the Victorian Women's Trust in a changing digital, political and philanthropic world, promoting true gender equality through high impact community grants, targeted research and policy submissions, events and more. They will hit the ground running in 2018, as the organisation reaches thirty three years of operation, a significant milestone for one of the oldest women's funds in the world.
"This success and longevity has been achieved by the organisation being well governed and well led," says Alana. "By staying true to our values, while allowing room for regeneration, VWT will continue to be a vital and influential force for the next 30 years."
---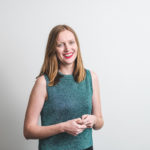 Ally Oliver-Perham
Ally is the Manager of Strategic Communications at the Victorian Women's Trust. In 2014, Ally co-founded Rosie (a VWT feminist website for young people) with Georgie Proud. She has been overseeing the project for many years. Ally believes that gender equality is at the heart of positive social change (she also believes in the healing power of choc tops but that's a whole other thing).