On March 1, a full house eagerly took their seats inside ACMI for the official launch of A White Hot Flame, a biography of Mary Bennett written by historian Sue Taffe, and for the world premiere of Letters Across the Desert, a Victorian Women's Trust documentary film by Stu Mannion.
The evening was about Mary Montgomerie Bennett (1881-1961), and her powerful advocacy partnership with Shirley Andrews. Bennett was an early voice for reforming ruthless laws repressing first Australians; the separating of children from their families and their educational exclusion, non-existent rights to traditional lands, and of due process for obtaining citizenship rights, equal pay and old age pensions.
A teacher, writer and advocate, Bennett relentlessly pursued justice for the people she loved. As such, she is an extraordinary, but grossly under-recognised figure in Australian history. Thus, the impetus for the night and White Hot Flame itself, was putting this great untold story of cross-generational, cross-country partnership and friendship forged in the pursuit of indigenous justice on the public record. It was a critical exercise, firmly marking the significant endeavours of unsung heroes like Bennett in history, and asserting them in the minds of present bodies.
A great turn-out for the launch of A White Hot Flame by Sue Taffe at @ACMI, in association with @VicWomensTrust. A huge thanks to #JackieHuggins for an engaging launch speech, and for Stu Mannion for his superb film, Letters Across the Desert. @congressmob https://t.co/xM5dhSlnl6 pic.twitter.com/sEgJ0tlaCG

— MonashUniPublishing (@MonashPub) March 6, 2018
The evening kicked off with an address and Welcome to Country from Leanne Miller, the Executive Director of Koorie Women Mean Business, of the Dhulanyagen Ulupna Clan, Yorta Yorta nation. Mary Crooks AO, Executive Director, Victorian Women's Trust, acknowledged those whose shared passion and involvement made it all possible; the Myer Foundation, Andy Inc., Monash University Publishing, and director, Stu Mannion for bringing this story to life. Homage was paid to Dr. Jackie Huggins AM in the front row, of the Birri-Gubba Juru North Queensland peoples and Bidjara Central Queensland. A beloved author, historian, teacher, activist, and "leader amongst towering giants" pronounced Crooks.
Before the curtains were heaved back and the screen flickered to life, Sue Taffe was warmly congratulated on her achievement. The process for which was a privilege said Crooks, "to sit at your feet and great wisdom".
As the credits rolled, and the walls slowly stole the light back from the screen, the air hung thick.
Dr. Huggins assumed the theatre's front to deliver her launch speech, commending the very touching film and meticulously researched book about Mary or "Mimi, as she was to us". She testified to Aboriginal and non-Aboriginal women working together as far back as she can remember; the 1967 referendum being a notable exemplar. Huggins spoke of Australia as a haunted country, of Aboriginal Australians ongoing journey and her own. "I have never met my white side, because I haven't been claimed yet," said Dr. Huggins.
Always great to hear #JackieHuggins speaking, @ACMI for the launch of A White Hot Flame by Sue Taffe in association with @VicWomensTrust. A great new book which foregrounds an important part of Indigenous Australian history. @congressmob pic.twitter.com/dOy0RGae7b

— MonashUniPublishing (@MonashPub) March 6, 2018
What stood out for Huggins was Bennett's being raised by Aboriginal women, shaped by traditional culture, law and ceremony, learned at a young age. Learnings that transpired into her becoming the staunch and passionate person she was. "A white hot flame was indeed what Mary was," declared Dr. Huggins. "Her legacy and inspiration lies within all of us who are willing to do the hard work. White, black, yellow, and brown—flames of all description must keep working. Thank you Mimi, Shirley and Sue. We all have a place in this country, but we have to remember whose land it is. And that there really is only one race at the end—the human race."
Taffe humbly claimed the lectern and the magnitude of her achievement. "As I was writing this book, I would always ask people if they had heard of Mary Montgomerie Bennett. The answer was always 'no'." So, Taffe strove to tell the story and make it accessible. When even historians drew a blank to Bennett's name, Taffe set out to bridge the gap between the work and recognition of this person decades beyond her time.
Mary Montgomerie Bennett was a woman who vehemently fought to teach all children, going so far as to hide her Aboriginal pupils, when the Education Department renounced responsibility for their schooling. She was a woman who understood the two-fold importance of lobbying and educating whites, ensuring her pupils had a place in the world. She worked against the splitting of families (50 years before what's now recognised as the stolen generation), warning that to do so was as dangerous as splitting an atom. When even 1930's feminists advocated for the removal of Aboriginal children, "thank god for [Bennett's] farsightedness" said Taffe. "Her work was based on a shared humanity and shared acceptance of responsibilities and rights".
Reflecting on Mary Montgomerie Bennett's relationship with Shirley Andrews, Taffe emphasised the extraordinary impact of their friendship. "Their communication was by letter, but it's astonishing what they managed to do", said Taffe. Sue recalled one particular letter in which Bennett reminded Andrews that worthwhile work spans significant time, and requires an ongoing acceptance that, "we're in it for the long haul". Taffe emboldened the crowd in talking about taking this lesson to heart. "Her dogged determination may be inspiration for us all," concluded Taffe, with which this evening at ACMI came to an end.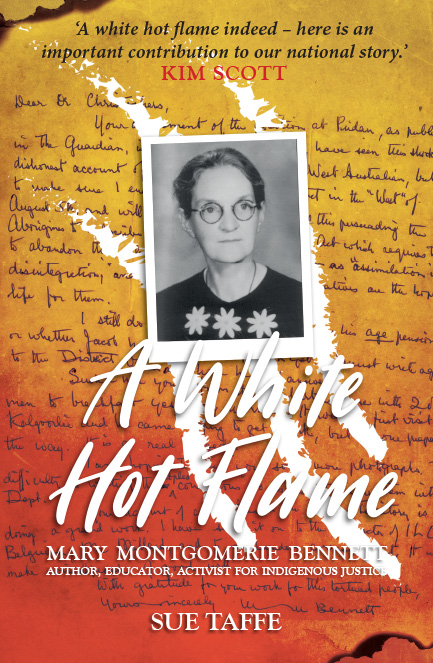 About the book
A White Hot Flame Mary Montgomerie Bennett – Author, Educator, Activist for Indigenous Justice By Sue Taffe is available for purchase via Monash Publishing.
About the Author
Sue Taffe is a Melbourne historian who has written about the contributions of twentieth century activists to campaigns for Aboriginal rights. She is the author of Black and White Together FCAATSI: the Federal Council for the Advancement of Aborigines and Torres Strait Islanders, as well as articles and book chapters about these activists.
---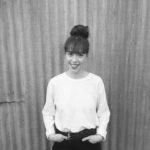 Sophie Bliss 
Sophie is fresh to Melbourne and the Victorian Women's Trust team this year, working primarily on Club Respect, a harm prevention initiative of the Dugdale Trust For Women & Girls. When out of the office, you can find her in an op-shop, bookstore or beer garden.