A few weeks ago, I was made aware – through social media – about a movement I hadn't heard of, thanks to tennis superstar Serena Williams. She posted on Instagram about 'Black Women's Equal Pay Day'. In it, she called for black women to demand equal pay because in the United States, she said "for every dollar earned by men, black women earn 63 cents, and 17% less than white women". Williams used her post to draw attention to the gender pay gap, saying it "hits women of colour the hardest", saying they experience both gender and racial financial disparity.
While we don't have a similar day that acknowledges these disparities in Australia, there is plenty of research that highlights the barriers women from Indigenous, migrant and refugee backgrounds face in finding employment opportunities. For example, according to the Australian Human Rights Commission, migrant women are at least 7 % less likely to be employed than women born in Australia. A recent report by the Australian Bureau of statistics found that there was a low participation of Indigenous Australians in the workforce (58%), with men more likely than women to be participate in the labour force (65% compared with 52%). Research also shows that should these group find employment, it will likely be in low-paying and low-status occupations.
What are some of the barriers that are preventing women from these groups from participating fully in the workplace?
One of the biggest barriers is systemic racism. According to the Australian Human Rights Commission, systemic racism 'is not about whether individuals hold racist views, but about the uneven impact of laws, policies or practices,' and is entrenched within institutions, governments and businesses. The commission's former President, Gillian Triggs, there is a clear correlation between discrimination and inequality.
"Research shows that racial discrimination contributes to social and economic disadvantage; likewise, social and economic exclusion can exacerbate experiences of racial discrimination," said Ms Triggs. Women from migrant and refugee backgrounds also face other barriers that prevent them from participating in the workforce. They include English language proficiency, education levels, holding overseas qualifications that are not recognisable in Australia, accessing insecure work because of their migration status to being the primary carers in their homes.
A report by Women's Health West also found that the ability for some migrant and refugee to navigate Australia's financial systems and be financially independent was also a barrier. Apart from finding it difficult to gain employment, once they do, these groups are prone to being exploited and unaware of their workplace rights.
How do we respond?
Many organisations are working to find solutions that support these women from providing additional language classes, access to affordable healthcare to work placements in their desired profession. Some have also called for the provision of gender sensitive and culturally appropriate training, programs and services.
In conversations around and about the gender pay gap, it is important that we raise the awareness of the challenges these groups of women have in accessing employment opportunities. In her post, Serena Williams writes "The cycles of poverty, discrimination and sexism are much, much harder to break than the record for Grand Slam titles."
"For every black woman that rises through the ranks to a position of power, there are too many others who are still struggling," she says.
As a black African woman, I am aware of the challenges that prevent some of my sisters from accessing employment and being able to contribute to the economy. And like Serena, I feel a responsibility to highlight some of these challenges in the hope that there is a greater awareness and acknowledgment of these issues by employers.
That is why I feel there should be clearer data around the gender pay that depict these differences to help policy makers come up with effective strategies to ensure all women are compensated equally. Until all women – regardless of race, ethnicity or religion – have access to employment opportunities, the gender pay gap will be harder to close.
---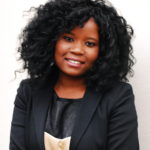 Santilla Chingaipe is an award-winning journalist and documentary filmmaker. She spent seven years working for SBS World News which saw her report from Kenya, South Sudan, Tanzania and Zambia and interview some of Africa's most prominent leaders. Santilla created and hosts the Africa Talks series in partnership with the Wheeler Centre in Melbourne which explores perceptions about African-Australian identity, representation and politics. Earlier this year she presented a one-off documentary for SBS, Date My Race. Santilla is currently directing and writing documentary on the complexities of Australia's South Sudanese community. She is also directing a short documentary exploring the perception of beauty in Australia. She writes regularly for The Saturday Paper.