Trigger warning: sexual assault
Bri Lee's memoir Eggshell Skull is a thing of power. That's not hyperbole, it's the truth.
Eggshell Skull draws you in as Lee tracks her first year as a Judge's associate in Queensland, wide eyed and self conscious. Taking you into courts across the state, Lee drives home the cold banality of the judicial system where cases of violence and sexual assault against innocents are met with seemingly never-ending bureaucracy. Justice, as you may have guessed, is rare.
Eggshell Skull also closely documents Lee taking a stand against her own abuser. She lays out the harsh reality of making a complaint about sexual assault, dealing with inept police, drawn out legal practices and gender bias, not to mention the intense strain on her own mental health. It's a lot but so important.
On May 28, the Victorian Women's Trust (VWT) partnered with Readings Foundation to host a conversation between the author and prolific feminist writer, Clementine Ford, at the Church of All Nations in Carlton.
While setting up for the evening, it was overheard that Helen was going to sneak in to catch the event (Helen Garner, that is). This snippet gives an insight into the significance of Lee's work. People across Australia are sitting up and taking notice.
It was dark by the time the event kicked off. But despite the fact it was a Monday and mid-winter, there was a number of early attendees (including a small wiry haired dog that was so dignified, no one bothered to ask to see his ticket). By the time Clem Ford and Bri Lee entered to speak, we had a full house.
Chris Gordon, Event Manager at Readings, opened the event, reminding guests that, "$5 dollars from your ticket goes to the Victorian Women's Trust (VWT). We felt that was important to raise money for ourselves, the Readings Foundation, as well as VWT."
Clem held up a well-thumbed copy of Eggshell Skull, saying, "It's easy to use a lot of superlative language when describing Bri's book but there's not enough that can be said about the enormous power it has."
Bri read an excerpt of the book to audience, before talking in depth about the difference between what juries imagine a courtroom is like and what really goes on. "We're not built to hear the complaints of women and children," she said. "What juries expect to hear in court rooms—which is informed by CSI—is real evidence. To overcome that we have to supply evidence like CCTV… that means that women assaulted in the home are on the back foot."
Clem agreed. "Women are not believed in the same way as physical evidence is believed … we are dealing with a system that is driven by men for whom these issues will be mostly theoretical … gas lighting has been translated into the legal system." The discussion moved onto the selection process for juries and how that may influence a trial, just as the personal bias of individual jurors has an impact.
"Juries made up of people raised in a rape culture," said Clem. "It is very common for the jury spokesperson to be an older white male."
Bri nodded, "When I suggest the justice system is sexist, people get uncomfortable. I think it's absurd to think it wouldn't be."
Clem asked Bri to talk about her experiences on the judicial circuit as a Judge's associate. "Every week we had a new trail," Bri explained, "and every week the case would be a child sex offence." There was an audible gasp from the audience as Bri detailed a case where a 14 year old girl, who had been sexually assaulted by her step father, was described in court as "knowing what she was getting herself into" because she knew the difference between a flaccid and an erect penis.
Clem spoke about Bri's own sexual assault case. "The process was long, tedious and heartbreaking for you … takes two years to get there, and it's done in three days. You realise, as a reader, that there must hundreds of cases that never make it."
Bri responded, "What I didn't realise before pursuing my case was the most likely place of attrition was at the police level … if we want to see real change this is where we need to direct our efforts. Next is at the prosecutor level. They make decisions based on what they think a jury will believe. They don't pursue [cases] if it's not going to result in a guilty verdict." Bri outlined typical instances where cases wouldn't be pursued, often due to bias against people of colour or those of low socioeconomic status. "I had everything and it nearly broke me. It's unacceptable."
"I wish I had've read [Eggshell Skull] before I started law school," said Bri. "I still have faith in justice … I wish we all made complaints." She acknowledged how many survivors may feel overwhelmed by the notion of making a complaint. "This book would help people to know what they're up against," she said. "It's an instructive manual for those who are unaware [of the legal system] … [and] will help make it easier for people about to go through this process."
Mary Crooks AO, VWT Executive Director, closed the event describing some of the Victorian Women's Trust's work over the decades in advocating for women's safety. She called Eggshell Skull an "extraordinary accomplishment. Women are reliable narrators, they are to be believed."
"Our legal system is not a neutral reality," said Mary. "It is made by men for men…it can be unmade."
In another writer's hands, Eggshell Skull could pull you down into the mire of human suffering, leaving you feeling as though gender bias and notions of "believability" will never be overcome. But it doesn't. And much of that is to do with Lee's ever-present strength. While at times it may seem as though her pursuit of justice might break her, she is bolstered and motivated by her anger — a gift she is no doubt passing onto others.
---
Eggshell Skull is Bri Lee's first book. It is available for sale everywhere good books are sold. More information available at Allen & Unwin.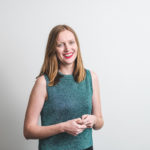 Ally Oliver-Perham
Ally is the Manager of Strategic Communications at the Victorian Women's Trust. In 2014, Ally co-founded Rosie (a VWT feminist website for young people) with Georgie Proud. She has been overseeing the project for many years. Ally believes that gender equality is at the heart of positive social change (she also believes in the healing power of choc tops but that's a whole other thing).