Club Respect, a new digital platform for sporting clubs, was launched at celebratory event at AAMI Park last night. Developed out of a ten year partnership between Nirodah and the Victorian Women's Trust, Club Respect is geared towards activating all sports clubs to be the benchmark of respectful behaviour in their community.
It was a lively and happy affair with lots of small children dressed in team uniforms running about, while parents, coaches, and sporting greats, chatted and mingled. Around 150 people gathered for the official launch in Edwin's Cafe at AAMI Park stadium, ready to hear from guest speakers Shelley Ware, co-host of the Marngrook Footy Show; Brent Silva, General Manager, NRL Victoria; the Hon. Natalie Hutchins, and more. Carlton AFLW teammates, Lauren Brazzale, and Alison Downie, were in attendance as well as sports legend, Nova Peris OAM.
Leanne Miller, proud Yorta Yorta woman, Executive Director of Koorie Women Mean Business and Board Member of the Victorian Women's Trust, opened the evening with a Welcome to Country. Leanne spoke of her ancestors and matriarchal lineage, setting the tone for the speeches to come.
The Hon. Natalie Hutchins (Minister for Women, Aboriginal Affairs, Prevention of Family Violence, and Industrial Relations) followed on from Leanne. Through the medium of sport, Club Respect seeks to drastically reduce rates of domestic violence in our community, an aim which directly aligns with the work of MP Natalie Hutchins.
"At the heart of my everyday work is prevention of violence against women and children," said Ms. Hutchins. "How do we start to change that? What does that have to do with sport? Quite frankly, everything. I look forward to seeing the change and seeing this all roll out into the future."
Shelley Ware, proud Yankunyjatjara and Wirangu woman from Adelaide, echoed the sentiments of Leanne Miller and Natalie Hutchins, emphasising the need to instil respect in all aspects of Australian sports culture. "It's no longer about your on-field performance," said Shelley. "It's about who you are as a person and who you are off-field too."
After every sporting event, there is a spike in domestic violence. Projects like Club Respect are needed in Australia.

- Shelley Ware speaking at the launch of Club Respect | @ClubRespectTeam @ShelleyWare
Despite her love of Aussie Rules and ongoing role as co-host of Australia's only Aboriginal footy show, Shelley spoke of her reluctance to attend football matches with her children due to the possibility of racial and sexist abuse from spectators. Speaking from experience, Shelley told of instances when she had to call out racial slurs at matches and the toll it took on her.
"Calling out racism is one thing, but as a teacher I have learnt that education is also the key to changing the way we talk about this," said Shelley. Reiterating the goals of Club Respect, Shelley affirmed sport as an effective vehicle for positive social change. "Through sports we can learn that we all deserve respect and an equal go."
Brent Silva, General Manager of NRL Victoria, took to the stage next. "When I started in my job, it was common practice for violence to occur both on and off the field," said Brent. "I knew it would take work in the community to make more positive changes and change this culture…but it needed to happen." '
Brent spoke passionately of how much his sporting community means to him and the times when the Victorian NRL community had been threatened by violence. His voice cracked as he recounted a week when three separate incidences of serious abuse occurred at NRL matches. Brent highlighted these episodes as further impetus for NRL Victoria's commitment to work alongside Club Respect in creating a zero tolerance approach to violent behaviour.
"We kept going back to the ultimate preventive measure for violence — changing the culture," said Brent. "A culture of 'we do not do violence' can only exist when there is a culture of respect."
The speeches were rounded out by Club Respect co-creators, Mary Crooks AO, Executive Director of the Victorian Women's Trust; and Paul Zappa, Director of Nirodah.
"When respect rules, there is no violence or abuse. It's as simple as that. But it is also as complex," said Mary. She went on to thank all the people who helped Club Respect come to fruition, including local clubs, Eastern Raptors and Mernda Dragons coaches and players who spoke in a series of videos, available now via the Club Respect website. "I can't stress how important it has been for us to go to the grassroots and capture these messages."
Mary also paid thanks to the men and women who stepped out of their comfort zones to bring their expertise to the table and help develop Club Respect. In particular, Mary praised the ongoing partnership between the Victorian Women's Trust and Melbourne Storm. "I love the synergy of a feminist agency having a long-standing relationship with a rugby club," said Mary.
Paul Zappa closed the evening with a short video featuring clubs already taking up Club Respect training. It was met with warm applause.
Paul spoke of the journey so far with Mary and the team. "What we have learnt is clubs want to support each other," said Paul. "They want to share with other clubs so that they have a mutual understanding…we know that Club Respect works. The two clubs that are here today are a testament to that."
Paul finished with a hint of what's to come for Club Respect, urging attendees to register their club as part of phase two of the project, which will be targeted on outreach and training for clubs.
The feeling in the room was one of positivity, hope and camaraderie. Each speaker spoke of their own life experiences, recounting the impact sport has had on them as individuals, reminding the audience of the power sport has to better our lives. A common theme throughout the evening was the need for people to work together to make sports clubs places of respect, fun and success. Club Respect will be the conduit to make that happen.
---
Thank you to our funders and supporters that have made Club Respect possible. In particular, we thank our partners:
Deepest appreciation to our donors to the Dugdale Trust for Women & Girls and the Victorian Women's Trust, who enable us to contemplate initiatives, such as Club Respect. In addition, we simply could not have been able to develop this initiative without the critical funding support of The Buckland Foundation and the Edward Wilson Trust.
In this regard, we also thank Natalie Elliot (formerly Equity Trustees) and Julie Reilly (Australian Women Donors Network) for their support and liaison. We'd also like to thank our talented web developers, Squareweave, for realising our vision.
Jess Naylor
Jess is a volunteer at the Victorian Women's Trust, mainly focused on the communications side of things. She graduated from Monash University in 2018 with an Arts degree majoring in politics and journalism. Jess is passionate about political engagement and education especially when it comes to helping make more people aware of inequality. When she's not doing that, she's mostly reading romantic novels, watching romantic comedies or trying to find the best everything bagel with cream cheese.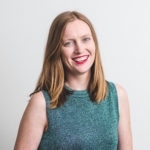 Ally Oliver-Perham
Ally is the Manager of Strategic Communications at the Victorian Women's Trust. In 2014, Ally co-founded a VWT harm prevention feminist website for young people, Rosie.org.au, with Georgie Proud. Ally believes that gender equality is at the heart of positive social change (she also believes in the healing power of choc tops but that's a whole other thing).