Artists like Frances Cannon are a balm to all the negativity directed towards our bodies every day. Her Instagram feed is both a visual feast and an lesson in how to be human. Fleshy, rounded figures feature throughout her work, each exhorting you to love yourself and your friends, but above all, be authentic. In a space awash with image filters and affectations of casualness that is hard to separate from the pages of wanky lifestyle magazine, Frances' work is a generous breath of fresh air.
"I've always used art as a way to process my thoughts and feelings, like in my journals and sketchbooks," says Frances. "I've been doing that my whole life. I guess it was a conscious decision to share such an intimate part of me. It wasn't a wide audience at first but it's now become one."
On Instagram alone Frances has chalked up a reach of over 120K, a number that may cause some folks to emit a long, slow whistle. And when you consider the messages in her work, her forthright feminism, and the way she unpacks important topics like positive body image, consent and mental health, it makes you want to give her an awkward hug and a high five at the same time.
Frances says the inspiration for her art comes from "people in real life, plus sized women who just don't give a fuck." Right on. "They just go about their lives, they wear what they want, and they're gorgeous," she says. "It comes from people I know, who are unapologetic about their bodies."
A strong feminist ethos must spring from somewhere. For Frances, university was her first point of contact with feminism. "I grew up in quite a religious family," she says. "Feminism was like the F-word; we didn't talk about it; it was bad."
"I moved back to Australia for uni about five years ago," says Frances. "I started meeting people, discussing these kinds of things and having difficult conversations — well, difficult at first, because I didn't get it. It's just so different to anything I had been taught and it was hard to grapple with. But soon it made sense and then it just clicked."
"Then I was like, 'why have I been living my life like this, despising my body and putting men before women?' It's just so crap! It was so freeing when I discovered feminism and opened my mind. I've been trying to learn more ever since. I'm still learning, but then we all are. I think if we get to the point where we're like, 'I don't need to learn anything, I know everything' then there's a problem, you know?" 
Understanding inequality has been a process for her. "Growing up, I saw gender inequality around me but at the time I didn't realise it was an issue," says Frances. "In Christian circles, man is always the head and the woman is second and I saw that in all my interactions. As an adult, the best example I see in my life now is in the art world."
Looking locally, institutions like the National Gallery of Victoria has long been criticised for its lack of representation of women artists. "It's a really big issue that male artists tend to get more shows, more sponsorship and big galleries showing their work," she says. "Go into any gallery that has a lot of money and most of the artwork in there will be by male artists. Smaller artist run spaces are more even. The art world still has a lot of work to do in terms of representation, but not just gender — race, everything. It still has a long way to go."
Despite a lack of diversity in our major galleries, there's no doubt that feminism and feminist art is having a bit of a moment, evidenced by the steady stream of 'femvertising' campaigns, and $710 feminist t-shirts. Ridiculousness aside, there's a contradiction that needs addressing. While feminism rises in familiarity, equality is still far from being realised. Proof points abound; we still haven't reached gender parity in the Australian parliament, safety is massive issue for so many, and while we're talking money — gender pay gap? Still a thing. And this is just tip of the iceberg stuff.
Sobering thoughts such as these need to be counterbalanced with a healthy dose of feminist nourishment but of the real kind, none of this quick fix stuff. It begs the question; how does Frances sustain her feminism?
"I think my art and my feminism sustain each other," says Frances. "It sounds a bit weird but I think that's a big thing. Like, I'll make a drawing and it'll be really positive with a feminist message and I will learn from that. Sometimes I'll make drawings without even properly thinking about it. Later, I'll look at it and think, "oh, I need to do that!" or "I need to think that about myself."
Her art making process is as free form as the figures she depicts. "My drawings are very spur of the moment, stream of consciousness," she says. "A lot of the time, I don't know what's going to come onto the page."
Like all of us, Frances is always trying to be a better feminist. "I'm trying to read more feminist books,' she says. "I've gotten out of the habit of reading. Uni kind of stopped me from reading for fun, which is really sad! But I'm trying to read more. I need a lot more practice but I'm starting to do it more." But the most important source of her strength and feminism, she says is "people I know, close friends who I look up to a lot". As Frances' work shows, feminism isn't just about ideas; it's also about people coming together and supporting each other to be the best they can be. More of that, please.
---
Frances Cannon x VWT: Limited Edition Ethical Tote Bag
This spring, we've collaborated Melbourne based artist Frances Cannon to create a limited edition ethical tote bag that celebrates the beauty and power of friendship. Available in white or black, each bag supports our work at the Victorian Women's Trust.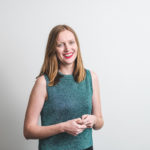 Ally Oliver-Perham
Ally is the Manager of Strategic Communications at the Victorian Women's Trust (VWT). In 2014, Ally co-founded Rosie (a VWT feminist website for young people) with Georgie Proud. She has been overseeing the project for many years. Ally believes that gender equality is at the heart of positive social change (she also believes in the healing power of choc tops but that's a whole other thing).