My son turned five recently, and we threw him his first proper party. The cake was a kind of Women's Weekly mash-up, two chocolate cakes carved and iced together in the shape of the number five, with dyed-green desiccated coconut masquerading as 'grass', and marshmallow flowers clustered around yellow Smartie stamens. The small guests at the party descended upon me like birds, each wanting one of the flowers for themselves.
Watching my child's tiny, gleeful face as he blew out the candles, I remembered his first birthday, which I spent pacing the streets of Seddon and Footscray, moving without respite. I was healthy enough, just, to have coffee with a friend, but the rest of the day was consumed with warding off a panic attack. The walking helped. It burned off a lot of anxiety. I bought my baby a croissant, which he ate happily in the pusher, not knowing the difference yet, or that I was in any way different from other mothers.
I remembered his birth, difficult, and the ensuing descent into ferocious postnatal depression and anxiety. I have written about these years, and I've lived them over again in my memory, and at the birthday party, a milestone for me as well as for my child, I realised that I'd put them to rest.
It felt wonderful, this year, to do 'ordinary Mum' things. We piled some logs up outside and had a bonfire and roasted the leftover marshmallows on sticks.  We played Pass the Parcel. The adults drank wine and the children jammed carrot sticks fangs into their mouths and pretended to be walruses. And through it all I gave in to the exhilaration, the sheer loveliness, of doing something fun with my kid.
It's hard to talk about, this joy that comes after illness—specifically, after postpartum mental illness. It has felt so much easier to talk, and write, about the hard parts, and the very hard parts, those early years given over to sleeplessness, exhaustion, anxiety, depression; those things that, while horrible, are social and cultural and political. I strongly believe in the work of naming them, of bringing maternal mental health into contemporary feminist discourse, and the work feels communal, for some kind of common good. I didn't think I would need to name feeling better.
But happiness is so much more complex, so much trickier than I anticipated. I remember one therapist telling me, when I was in the grip of severe anxiety and depression, that I would eventually find 'pockets of joy'. She meant this assuringly, attempting not to sugarcoat things, but it was confronting, and difficult to hear. I wasn't ready for the weight of happiness, its responsibilities.
I felt guiltless fantasising about suicide, because I didn't love my baby, didn't really know him. Violence and anger were safe, because they were hurled, psychically, towards a small being with no more connection to me than a rat or a possum. If I did have a moment of illumination—if I felt happiness parenting, if I felt joy—and then went dark again, how could I live? But how could I not live, or think about not living, without new guilt eating me outward from my bones?
You can frame recovery from illness as a journey towards neutrality, a simple, neutral health, but I think, for me, that recovery has only happened in encompassing the terror of this love for my child, in simply sitting with it, and in letting myself lean hard into exuberance and beauty. I am trying to break the habit of setting myself aside from 'ordinary' parents, ones whose foundational experiences of their children weren't forged in bleakness and despair. I am trying hard to think of myself as a late bloomer, someone now blossoming into fierce, protective, exhilarating happiness and love, and to tell myself that it doesn't matter whether I am late if I get there in the end.
At the birthday party were friends I've made here in Canberra, with their kids, ranging in age from one to about six, running deliriously across the backyard and hopped up on sugar. I looked at the babies and saw how beautiful they were. The old wound of not loving my own baby had scarred over; it no longer hurt. I looked at the bigger kids and saw Clag and cardboard and solar systems and guinea pigs. Sunscreen and handknitted jumpers. Bigger and bigger shoes.
I do want to talk about the joy, because it is forming me as profoundly and as permanently as did the depression and the grief. I will never not live with mental illness, and I still manage it day by day. But I know now that I will never live without the deep, exhausting love that is sustaining me. What I've learned is that good things do sometimes come. The trick, and the work, is in making yourself equal to them.
If you or someone you know needs support, contact Perinatal Anxiety Depression Australia (PANDA) National Helpline (Mon to Fri, 9am – 7.30pm AEST) Call 1300 726 306 or call Lifeline Australia – 13 11 14
---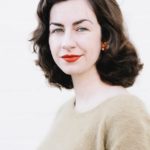 Jessica Friedmann
Jessica Friedmann is a writer and editor living in Canberra, ACT, with her husband and small son. She graduated from the University of Melbourne in 2010 with an Honours Thesis in Creative Writing, for which Jessica won a R.G. Wilson Scholarship. As an editor, she worked across student paper Farrago and indie titles Going Down Swinging, a cloth-covered button, and Dumbo Feather, with a stint at the Lonely Planet. Her writing has appeared in The Rumpus, The Lifted Brow, Smith Journal, Dumbo Feather, Voiceworks, Arts Hub, newmatilda, Australian Financial Review, The Age, Luxury, and more.
Jessica's debut book of essays, Things That Helped, is out now with Scribe. Based on her experience of extreme and debilitating postpartum depression, the essays each take as object at their centre, and examine how imbued or embodied narratives can help when navigating your way through and out of illness.