On 19 June 2000, federal MPs united in shock and grief to mourn the suicide of Labor MP, Greg Wilton. Howard government minister Tony Abbott earned praise for his carefully delivered, dignified commitment to lift parliamentary standards of conduct, made to a parliament unusually hushed by a succession of sombre condolences.
'The best thing we could do would be to re-dedicate ourselves to being kinder and gentler to each other,' he pronounced with gravitas.
Two days later he returned to his favourite pastime of belittling Labor's star recruit, the gentle Cheryl Kernot. Incensed at being interrupted, he ingloriously became the first minister in forty years to be ejected from parliament, under escort, after lunging towards the Labor benches to thump a heckling MP.
Nine years later he became Opposition Leader after running a guerrilla campaign against his leader, Malcolm Turnbull, on climate change policy. A year on from that, on 24 August 2010, he reprised his hollow promise of better behaviour during negotiations to coax the rural Independents into supporting his bid to lead a minority government following the knife-edge federal election. One of their demands was to commit to codifying loftier parliamentary standards of behaviour.
'I think we can have a kinder, gentler polity,' the one-time Catholic trainee priest piously declared. 'I think we can be a more collegial polity than we've been.' Parliament's standout bare-knuckle fighter added: 'I think that the spirit of parliament has been needlessly confrontational.'
Three weeks later, after Prime Minister Julia Gillard had outclassed the political brawler to secure Labor the minority government, he dropped the charade. On September 18 he declared war on the government, and war on Gillard.
The only 'constructive' way he could channel his 'frustration and disappointment' was to 'redouble attacks on the Labor Party,' he seethed. He was good to his word. He deployed Trumpian tactics of personal invective and false narratives against Australia's high-achieving first female prime minister well before Trump had risen like a monster from the deep to blight his country's soul and redefine the meaning of political narcissism.
Along with former PM Kevin Rudd and his acolytes in the media, Abbott helped destroy Gillard's prime ministership. His ill-gotten reward was the prime ministership in 2013.
Only two years later, his party belatedly awoke from the dream he'd pitched of good government to the reality of the nightmare he'd created of a heartless regime, driven only by him and his ruthless chief of staff, Peta Credlin. The party room voted to return to Turnbull.  Abbott was a model of decorous political conduct in his moment of humiliation. He would not wreck, snipe or undermine the new PM, he pledged.
As he strutted away from his last prime ministerial press conference, his familiar boxer's swagger and aura of simmering anger spelt trouble for Turnbull. His commitment to honourable behaviour in the service of his leader and nation was as believable as the other pledges he'd made over the years.
Abbott will never be beaten. For Tony, it's always personal. It's always about the fight.
His goal of payback culminated in the bloody events of the week beginning August 20 when he led the hard right of Menzies small 'l' liberal party into one of the most destructive and baseless political street brawls in our nation's history.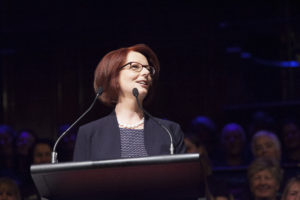 For twenty years, Abbott has destroyed rather than built. He has normalised hyper-aggressive ego-driven politics; his power over the nature of political discourse is reflected in the success of his poor brand of politics: the claiming of Turnbull's scalp in 2009; the shredding of Gillard, helping lead to her knifing by Kevin Rudd in 2013, which in turn led to the Abbott prime ministership just months later.
His voracious appetite for combative politics has infected Australia's political and parliamentary practices and forced deliberative policy-making into the shadows. For what? The turn-off by voters of our appalling political culture has led to the rise of minor parties and independents that cripple a government's agenda.
The despair of voters in forgotten pockets of Australia has given rise to populist race-baiting chancers like Pauline Hanson whose mantra about the bastardry of big party politicians has been received like rain on a parched paddock.
It has stripped all meaning from the precious words in our language that are supposed to embody our best natures. Unity. Loyalty. Respect. These pledges of fealty were shamelessly paraded by a succession of ministers to the media – and in parliament, no less – after Turnbull's initial win in the first leadership ballot of that bloody week. They were lies.
Peter Dutton's concession speech of loyalty to Turnbull and respect for the party room vote following his loss in the first ballot was also a barefaced lie. Within 24 hours he was publicly boasting on air that he was hitting the phones to recruit for another leadership tilt, which he and his bullying band rammed through.
Loyalty, respect, the truth, honour. These were all glibly discarded by so many Liberal MPs and ministers in much the same way you'd toss a wrapper in the bin: casually, without thought.
Spurned again, the contender walked out of the second party room meeting in three days to pledge 'absolute loyalty' to the successful candidate, Scott Morrison. Sure.
Why a small clutch of hard-right ideologues, in sync with News Limited and loudmouth commentators on Murdoch's Sky News channel, believed they had the right to force their will onto the liberal party and the nation – in so doing tearing down a popular leader – is staggering.
Australians, said Turnbull in his gracious farewell press conference, would be rightly appalled. Hear, hear. Our democracy and national identity is being hijacked under our noses.
Apart from the needless barbarity of Turnbull's political slaughter, Abbott and his mad mob of MPs and media backers don't represent Australians. Their hard-line policies do not reflect who we are. In every key policy area, the majority of Australians are in the centre, keening for principled, fair, compassionate policies led by a government that embodies those principles.
On climate change, an August Fairfax-Ipsos poll revealed that only 13 percent of the electorate thought the government was doing 'too much' on climate change. Fifty-six percent said the government wasn't doing enough, and only a quarter thought 'just enough'.
On immigration, Monash University's Scanlon Foundation surveys on Social Cohesion – the most authoritative snapshots of Australia, compiled every year of the last decade – consistently finds majority support for current levels of immigration. Ditto multiculturalism; support of between 83 and 87% was recorded between 2013 and 2017.
An Essential poll conducted earlier this year also showcased the beating heart of compassionate Australia, recording majority support for the onshore settlement of refugees.
Australians gave a resounding thumbs-up to marriage equality yet in interviews to explain why she dumped on Turnbull, Abbott's arch-conservative NSW foot soldier, Senator Concetta Fierravante-Wells, nominated that binding moment in our history as an example of how Turnbull had dragged the party to the left.
It was nonsensical prattle. She omitted the inconvenient truth that Turnbull inherited the policy from Abbott, and Dutton had devised the postal vote policy in an attempt to train-wreck the community's right to vote on an issue that a consensus had long wanted.
The nation is in deep shock at the latest bloodletting and nauseous at the nakedly self-indulgent destruction of another Prime Minister. A small band of right-wing anarchists has wrecked and maimed its party and their leader, and has been trying for decades to thwart Australians' collective will on sensible policies.
We are an international embarrassment: seven Prime Ministers in eleven years; five in the last five. Enough, already. Leave Parliament at the election, Tony, and take your other wreckers with you. Your time is done.
---
Kerry-Anne Walsh is a political journalist and commentator, best-selling author, and media consultant. She won the prestigious 2014 Australian Book Industry Award for General Non-Fiction Book of the Year for her dissection of the forces that brought down Australia's first female Prime Minister, The Stalking of Julia Gillard.