The inhumane treatment of people seeking asylum is an unresolved problem. There is more that can be done to improve how Australia responds to people seeking asylum and now is the time to do it.
We can all contribute to a solution. Here's how you can help:
    Educate Yourself
Taking the time to learn the facts, will give you the necessary information to understanding why the current humanitarian program is not only ineffective, but a breach of our obligation to protect people seeking asylum. The Victorian Women's Trust's Our Voice Their Safety website features excellent resources including Asylum Policies: How we got into this mess which will provide you with well researched background information on the issue.
      Raise Awareness
Not enough people are aware of what is occurring in our offshore processing centres. Raising awareness could be as simple as starting a conversation and bringing up the issue within your networks or writing to your local paper.
The media is an excellent communication tool for both the public and the government because circulating the right issues in our media not only informs the public, it influences the way our government prioritises issues. The OVTS page contains a Media Guide to help you utilise this powerful resource.
      Raise your Voice
The Australian government is made up of representatives, elected by us to represent us. Ultimately, this means that we get a say in how the government decides to deal with people seeking asylum. Write, call, email or visit your local MP. Let them know that you disapprove of the inhumane treatment of people seeking asylum and that you want to see changes.
      Join Others
There is power in numbers. There are many organisations advocating for more humane treatment of people seeking asylum. Showing your support to such organisations is imperative.
The Trust is part of a network of diligent advocates including Amnesty International Australia, Australian Women in support of Women on Nauru, Asylum Seeker Resource Centre, Brigidine Asylum Seekers Project, ChilOut Revived, Grandmothers Against detention of Refugee Children, Union for Refugees amongst others.
      Don't Give Up
Persistence is key. The only way we can reach a solution is if we continue to engage in discussion and make this issue a priority. Be active in raising your voice to advocate for changes to how our government treats women, men and children seeking asylum.
Silence will not resolve this problem, but dialogue and attention to the issue will.
---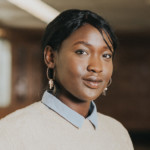 Emmanuela Noi
Emmanuela is a volunteer at the Victorian Women's Trust. She is passionate about gender issues, particularly those affecting women of culturally and linguistically diverse backgrounds. Emmanuela is studying a Bachelor of International Development and would love to travel more.