This year the Victorian Women's Benevolent Trust's (VWBT) annual grants program funded 25 community-based organisations working to improve economic security – a record number for VWBT. "We chose to focus this grants round on women's economic security as it's clear that without financial stability, women will continue to be left behind," said Bryony Green, VWBT Grants & Development Manager. "We believe that economic security is at the heart of gender equality."
Many women encounter economic insecurity at some stage of their lives due to complex circumstances such as cultural dislocation, intergenerational poverty and disability. The VWBT's latest grantees advocate for women who face similar obstacles so they can achieve economic self-determination and safety.
"Many of these women are not properly supported in the community," says Bryony. "When women are struggling financially, basic needs like putting food on the table and finding secure housing becomes their number one priority. Looking beyond that to education and meaningful employment can seem near impossible."
Fortunately, there are many dedicated organisations committed to creating a better world for women and girls. Operating in Dandenong, Wellsprings for Women runs Dial a Sista, a program which recognises that women do not always have equal opportunity of employment due to complex cultural, language or educational barriers.
The initiative works hard to place women on equal footing. Dalay Smiley, Chief Executive Officer at Wellsprings for Women, states that, "This grant is ultimately intended to create pathways to economic independence for women who as a result of financial dependence and hardship, feel trapped in a cycle of poverty and in what are often abusive relationships." Dial a Sista empowers women by building on existing skills they have. Participants have an opportunity to assist other women in paid services such as washing, sewing and cleaning as they progress towards employment.
In a similar vein, Enhancing Economic Security by Women's Health West works to improve employment prospects and specifically addresses young newly arrived migrant and refugee women. The scheme gives young women an opportunity to develop financial literacy, leadership skills and confidence. "This grant will mean we can increase the financial capacity of women from newly-arrived communities," said Louise Sadler, Gender Equity Manager, Women's Health West. "Through our financial literacy program we give women increased confidence to access and engage with financial services and systems."
The program also encourages women to hone their leadership skills through their strengths-based program, Lead on Again. Culturally and linguistically diverse young women gain experience in leadership, develop confidence in their abilities and learn about themselves. They receive encouragement from a network of supportive peers every step of the way.
In the media industry, SYN Media has produced a new program Hear me Roar an initiative that promotes confidence in young women and boosts employability skills. As a young person, entering a new professional field can be an intimidating experience. It is especially difficult when there is a lack of representation that may function as a deterrence to individuals aspiring to work in an area. According to a 2016 report Price Waterhouse Coopers, 75% of employees are white, male and monolingual English speakers in the media industry.
Hear me Roar challenges the status quo and support 10 young women and gender non-conforming people and gives them hands on experience in creating a weekly radio show and provides in-depth training and mentoring. When a range of diverse voices are given a platform, more vital perspectives are added to the public narrative.
On a personal level, participants leave with more confidence in their abilities to succeed.  "To be supported and shown that what I had to say was valued, gave me something I'd never had before, confidence, and taught me something about myself – that I can achieve anything I want," said Evrim, SYN Media program participant.
Illuminating the lived experiences of others, particularly in storytelling, is an important component of gender equality. When women's struggles are voiced, they are better understood and represented in a more nuanced way. However, women's voices need not only be heard, but should be integrated into public policy so that effective change can be implemented. Women in Economics Network: Australian Gender Economics Workshop (AGEW) 2019 hosted by RMIT will do just that. Over the course of two days, researchers and policymakers will work collectively to brainstorm strategies to improve economic policy for women and girls.
Leonora Risse, Vice-Chancellor's Postdoctoral Research Fellow, said, "AGEW is a way for us to bring together this evidence base and harness this knowledge on a national scale, taking us a step closer to achieving more equitable economic outcomes and opportunities for women and girls in Australia."
These organisations constitute only a small fraction of the VWBT's 2018 grants. However, they truly reflect the diversity of the Victorian community organisations working to address the issue of economic security and ensure that all women and girls are able to navigate the world with confidence. As Bryony says, "Helping all women thrive is an essential step toward reaching true gender equality."
---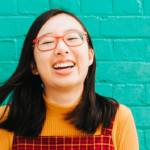 Casey Duong
Casey is studying Arts/Law at Monash University and volunteers at the Victorian Women's Trust, working on capturing stories for VWT's upcoming annual report. She is passionate about storytelling and is always wondering when she'll eat her grandma's spring rolls next.