Breakthrough 2016 — warm, buzzing and future focused.
Breakthrough (hosted by the Victorian Women's Trust on Nov 25-26) was a giant coming together of all kinds of people and 100+ speakers to talk about the most important opportunity of our times; gender equality. How will we move beyond old world views, stop tinkering with policy that doesn't meet our needs, reject negative attitudes that are holding us back, and really start moving forward? This was our central theme and over the course of two days, the answers came through loud and clear (watch this space for the audio and transcripts over the coming weeks).
In an editorial on Nov 28, The Age called Breakthrough, 'the biggest gender equality conference in the nation's history'. It was a leap forward in unison, fittingly opening on Nov 25, the International Day of Elimination of Violence Against Women and the first day of 16 Days of Activism Against Gender Violence. And while the topics covered were serious (with good reason) the Melbourne Town Hall and surrounding venues were filled with an energy that could only be described as heart warming and positive. And as evidenced by the monumental Victorian Gender Equality Strategy launched this week — change is upon us and we are the wave makers.
Breakthrough was such a extraordinary occasion with an atmosphere that's impossible to condense, but that's not going to stop us from trying. In no particular order, here's some of our favourite moments from Breakthrough 2016: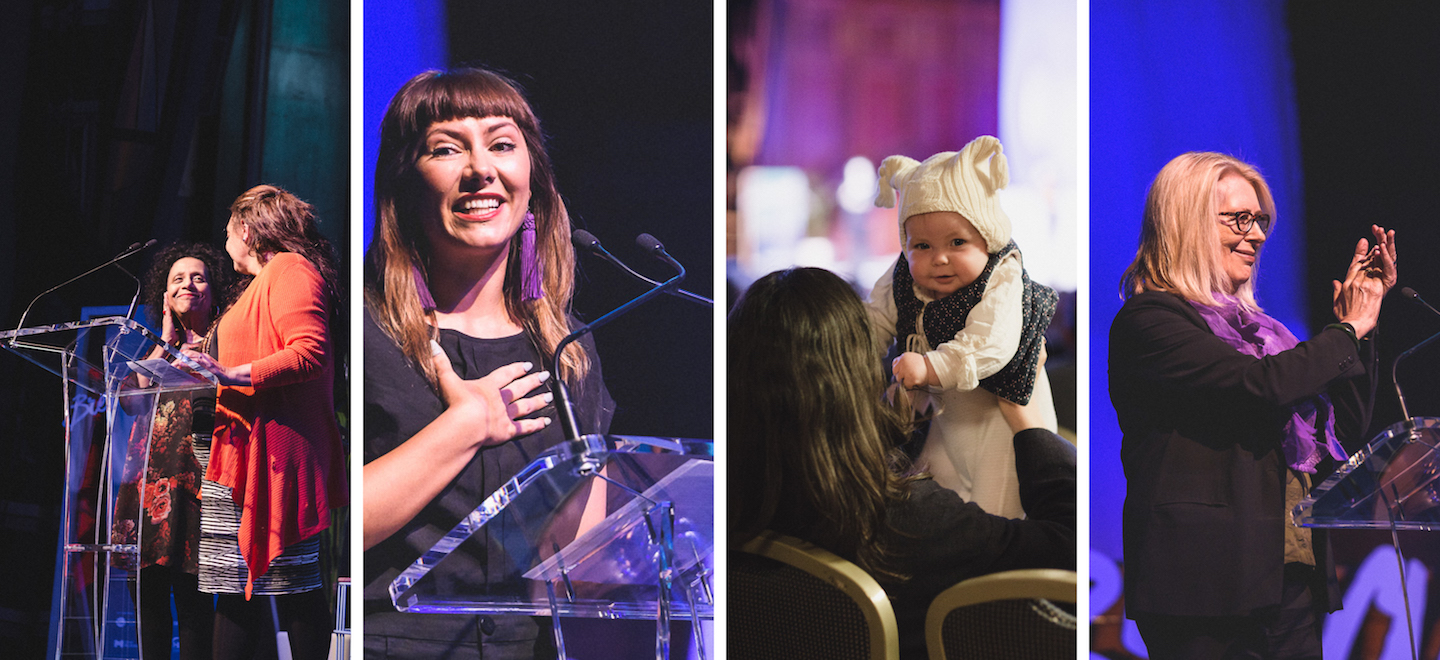 Meeting the crowd On day one
After the doors opened on Friday morning, Breakthrough 2016 began with a moving Welcome to Country from Leanne Miller, a woman of the Dhulanyagen Ulupna Clan, Yorta Yorta nation. She is also the Executive Director of Koorie Women Mean Business and a Board Member of the Victorian Women's Trust (VWT). Dur-e Dara OAM (Board Member, VWT) stood alongside Leanne as a pertinent and symbolic reminder of the longstanding partnership between the Koorie Women Mean Business and the Victorian Women's Trust.
"We cannot progress without walking side by side with Aboriginal women and men."-Dur-e Dara OAM, Welcome to Country #Breakthrough2016 ✊🏻✊🏼✊🏽✊🏾✊🏿

— Casimira Melican (@CasimiraMelican) November 25, 2016
Soon after, Ella Hooper greeted the crowd. "As a board member of the Victorian Women's Trust, I hope to help young women find their voice and use it for gender equality." From there, we were in the hands of Anne Summers AO, our MC for day one. Speaking of the struggles old and new, Anne highlighted the recent US election, prompting a loud round of applause for Hillary Clinton, before bringing us back to the present. "Here we are all gathered under one banner; 'the future is gender equality', Anne observed.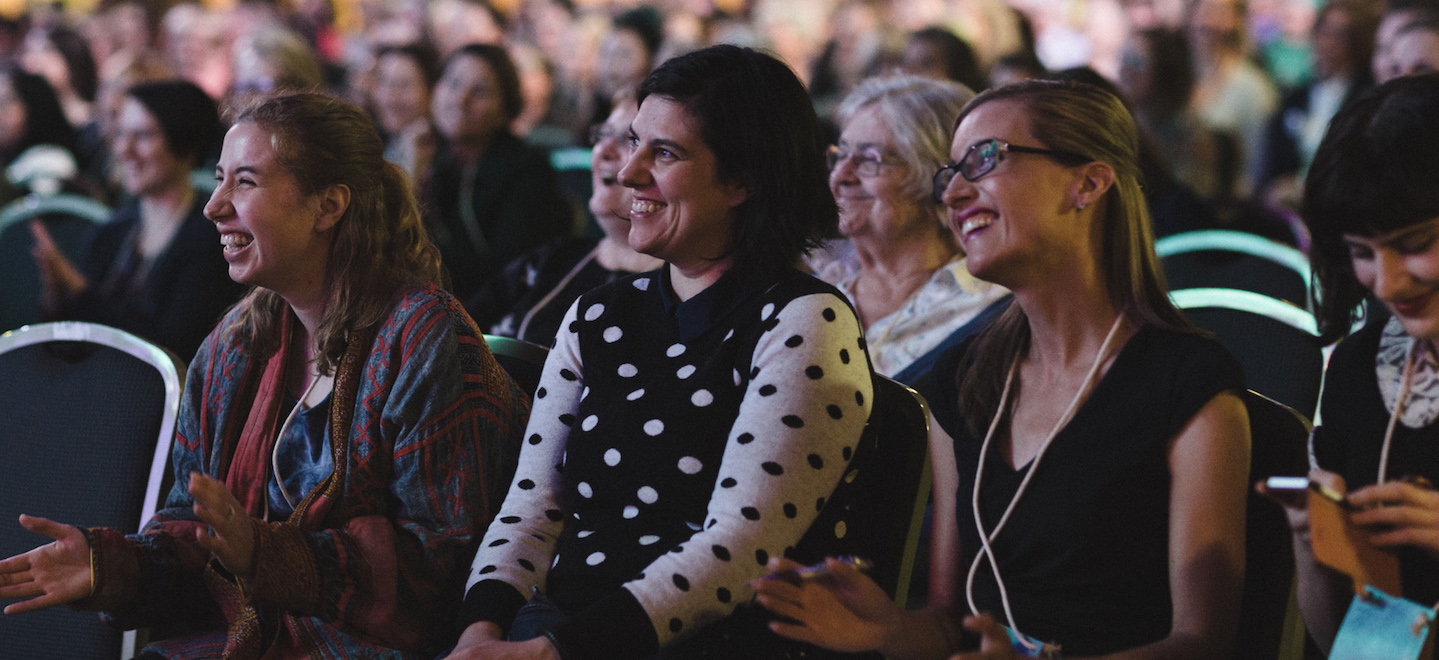 Dr. Clare Wright reminding us of our rebellious past
"The two v's. First wave feminism was all about the votes. Second wave was all about vaginas" – @clareawright#Breakthrough2016@latrobe

— Grace Mountford (@GraceMountford1) November 24, 2016
La Trobe University Research Scholar, award winning author and historian Dr. Clare Wright's address Making Waves, Making History, uncovered the rich background of women's activism that has came before us. "If knowledge is power, it's fundamentally disempowering if women's contributions to history are hidden." Understanding our collective history affirms our future pathways, especially for younger generations. "To know that women acted in rebellious and anti-establishment ways tells young women they can too." The subtext was clear: Reclaim your past. Make waves.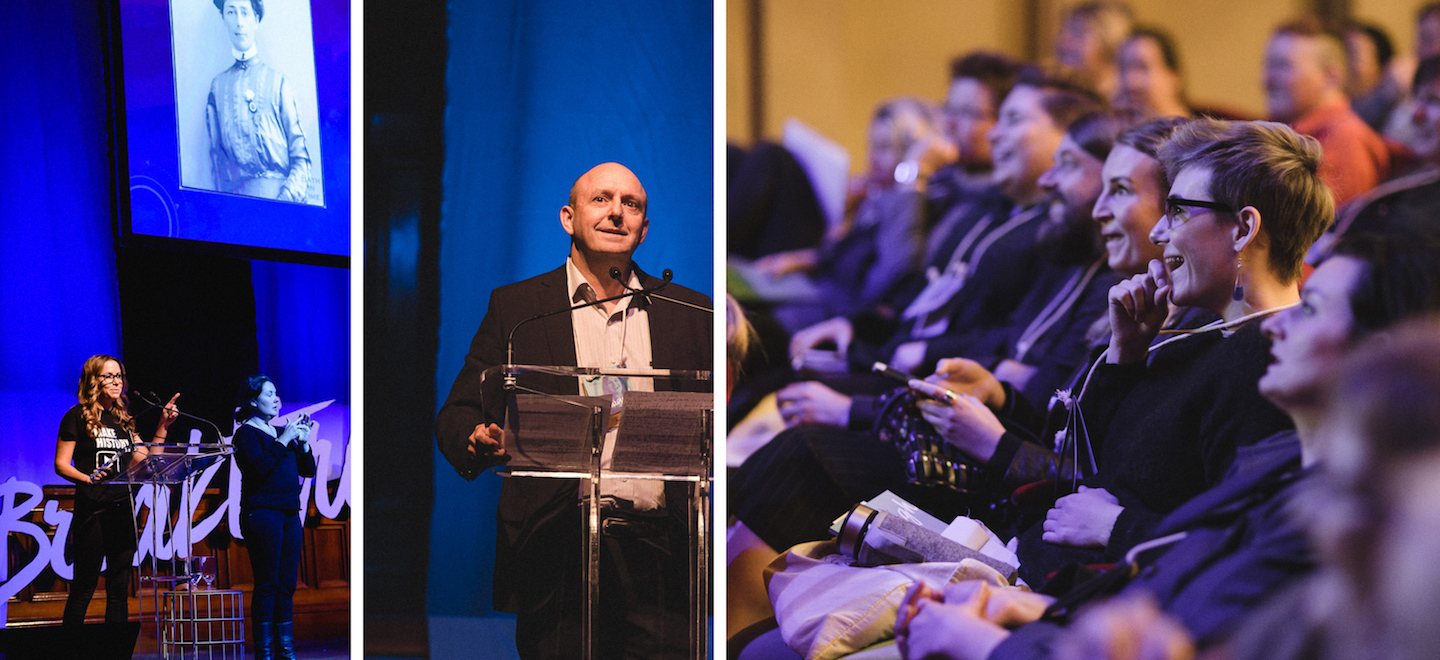 Richard Denniss' provocative financial tip: "Be A Man."
Dr. Richard Denniss, Chief Economist at the Australia Institute surprised everyone with his financial tips for getting ahead. Jo Burston, CEO of Inspiring Rare Birds, called his talk, "factual, offensive and so spot on."  With humour and sarcasm that's hard to capture, Richard told the crowd that if they want to be cashed up, don't go into caring professions or take time out to look after kids and parents. In short, be a man. Reminding us that the inequality in the Australian labour market is not some accident and that there are powerful people who are for the status quo, Richard declared, "Gender inequality is not a women's issue; it is an opportunity for Australia".
#Breakthrough2016 Richard Denniss- how do we fix gender equality? Think big. Lose notion that we can't afford it. Never accept a false truth

— Dr Sarah Casey (@sarahjcasey) November 25, 2016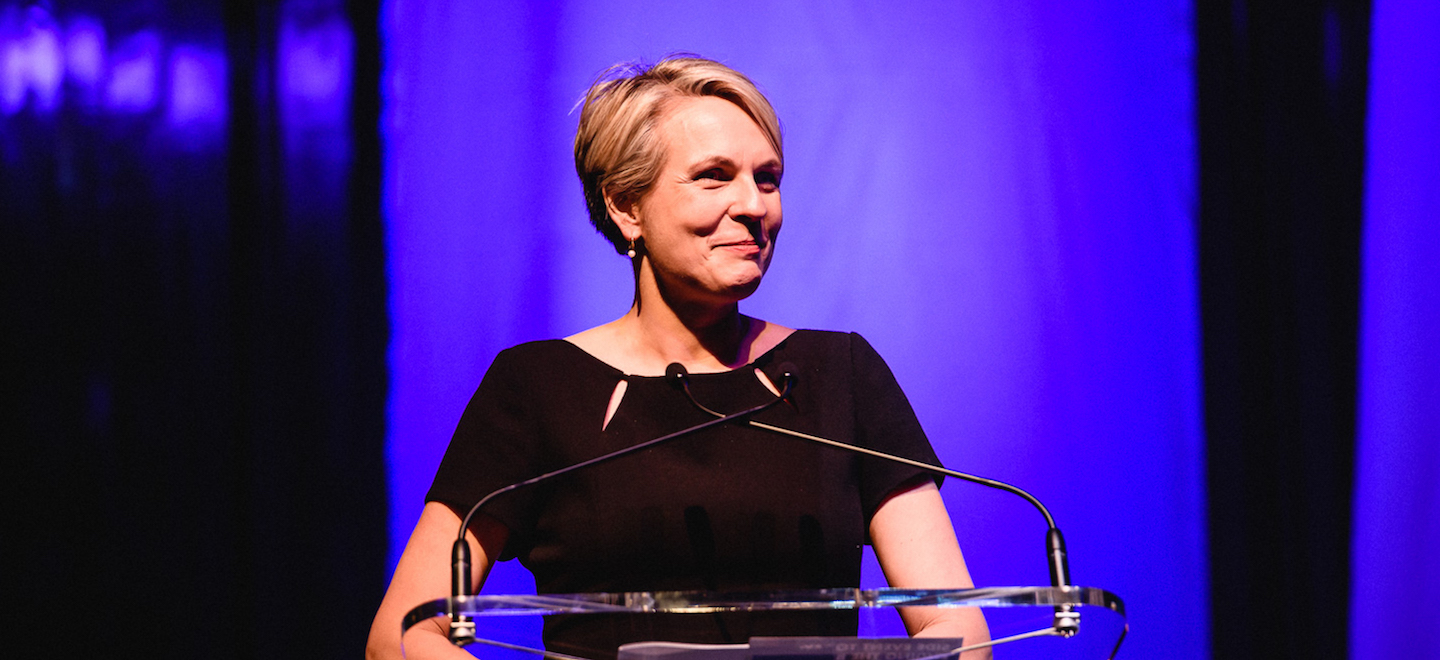 tanya Plibersek: "We cannot take progress for granted."
Armed with the historical and financial context to social inequality, the crowd gathered in the Melbourne Town Hall to hear Deputy Opposition Leader Tanya Plibersek's take on equal representation.
Tanya warmly addressed the packed hall, "How fantastic to be in a room full of feminists." Speaking on the theme Our Rightful Place, Tanya asserted that, "we cannot take progress for granted. The laws that women have fought for can be unwritten. Women have to stand their ground, in a way that brings more people in." Advocating for quotas, Tanya said, "For my money, the single most important thing is to set targets and be judged by them…we make better decisions when there are more women at the table."
Tanya Plibersek: setting targets critical to #genderequality: this creates critical mass and creates cultural change. #breakthrough2016

— Invisible Farmer (@invisfarmer) November 25, 2016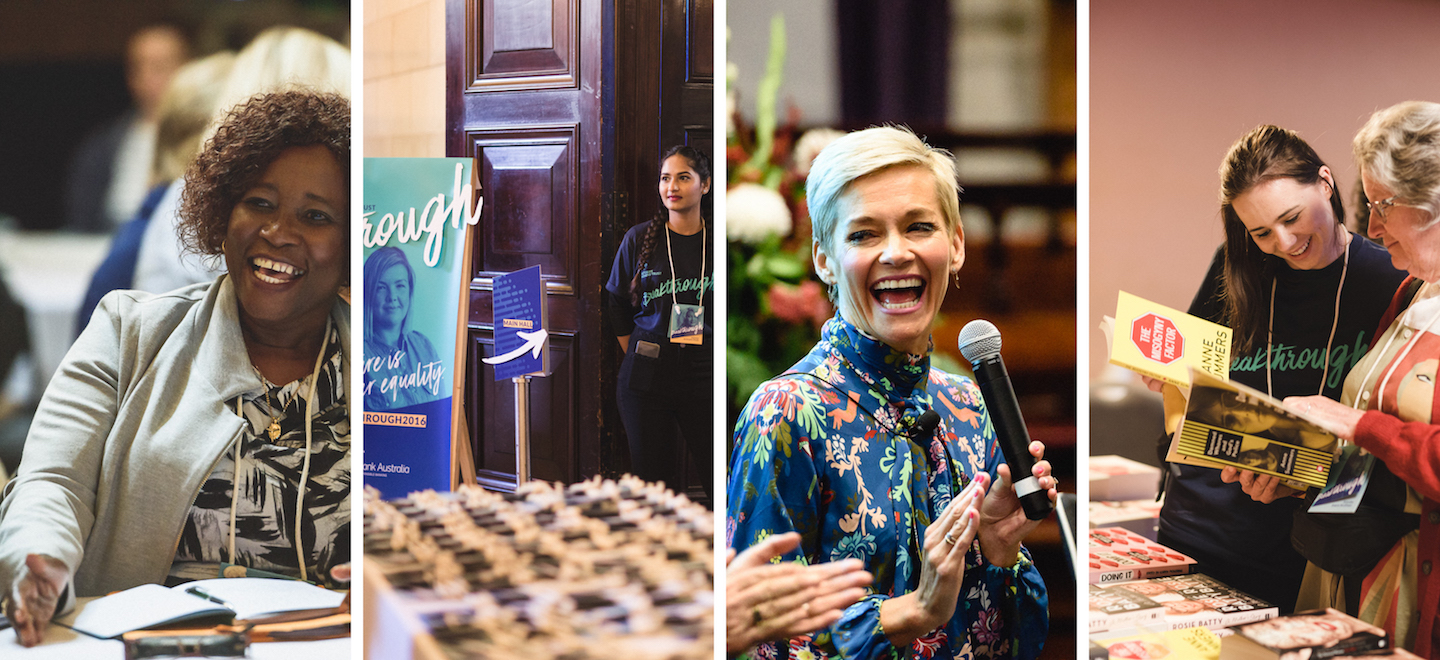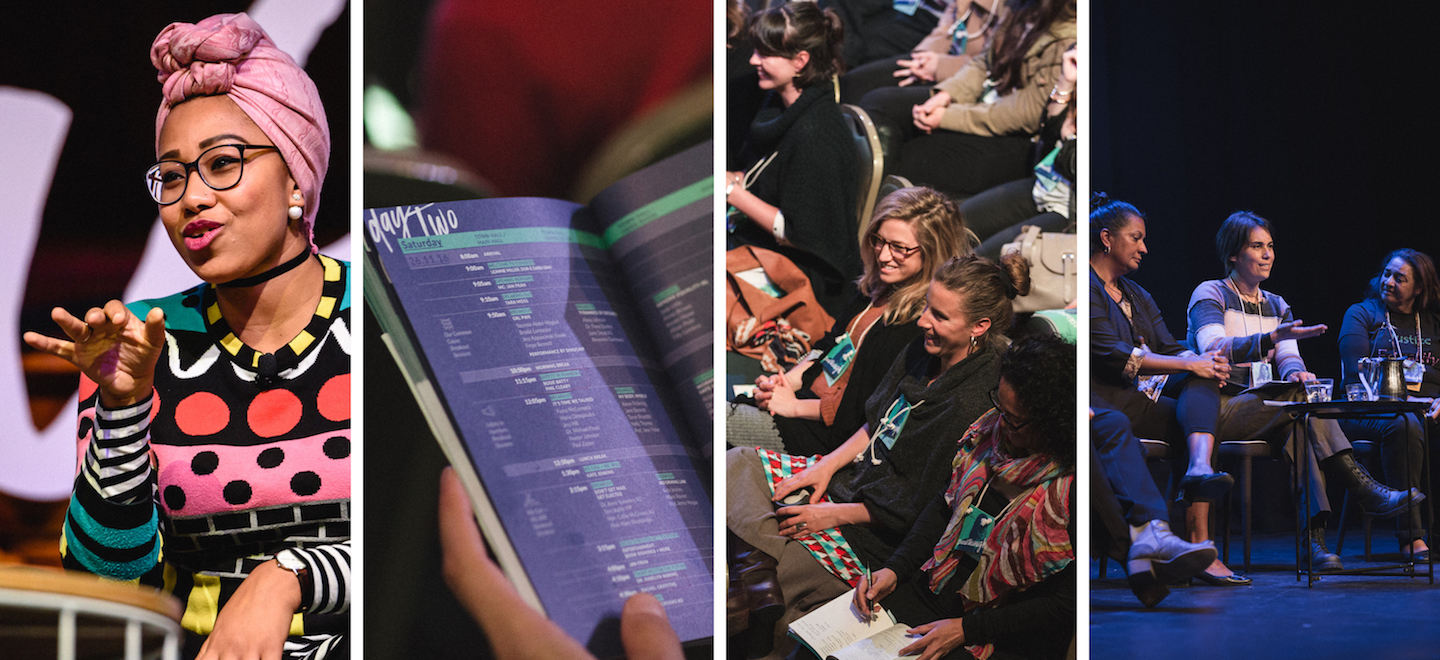 The Breakouts
For those who couldn't be there; Breakthrough wasn't only power charged keynotes. Over the two days, there were 25 breakout sessions tapping into the venn diagram that is gender and the world around us. As a group, we delved into critical issues like justice for Indigenous women, equal representation in our media, reproductive rights, the gender bias inherent in superannuation, intersectionality, what it's like to be a woman in a male dominated industry (just to name a few), and plenty more.
Audiences fed in their own wisdom and expertise. Cartoonist Jessamy Gee captured the knowledge of the room in 'Life, Relationships and Money; Discuss' and 'Reforming Law' with Moira Rayner, Kate Jenkins and Prof. Jenny Morgan. The insight exposed in each session requires a deep exploration, a task we are willingly taking on (translation: watch this space for the audio and transcripts over the coming weeks).
A man can walk into a room and is deemed competent until proven otherwise. For women it's the reverse.#Breakthrough2016

— Marie Claire (@marieclaireau) November 25, 2016
@judyhoracek's advice to girls and women – kill your own dragons, make your own history. #Breakthrough2016

— Because I am a Girl (@invest_in_girls) November 25, 2016
"Always, always, always stand up for other women." – Judith Lucy #Breakthrough2016

— Future Collector (@FutureCollector) November 25, 2016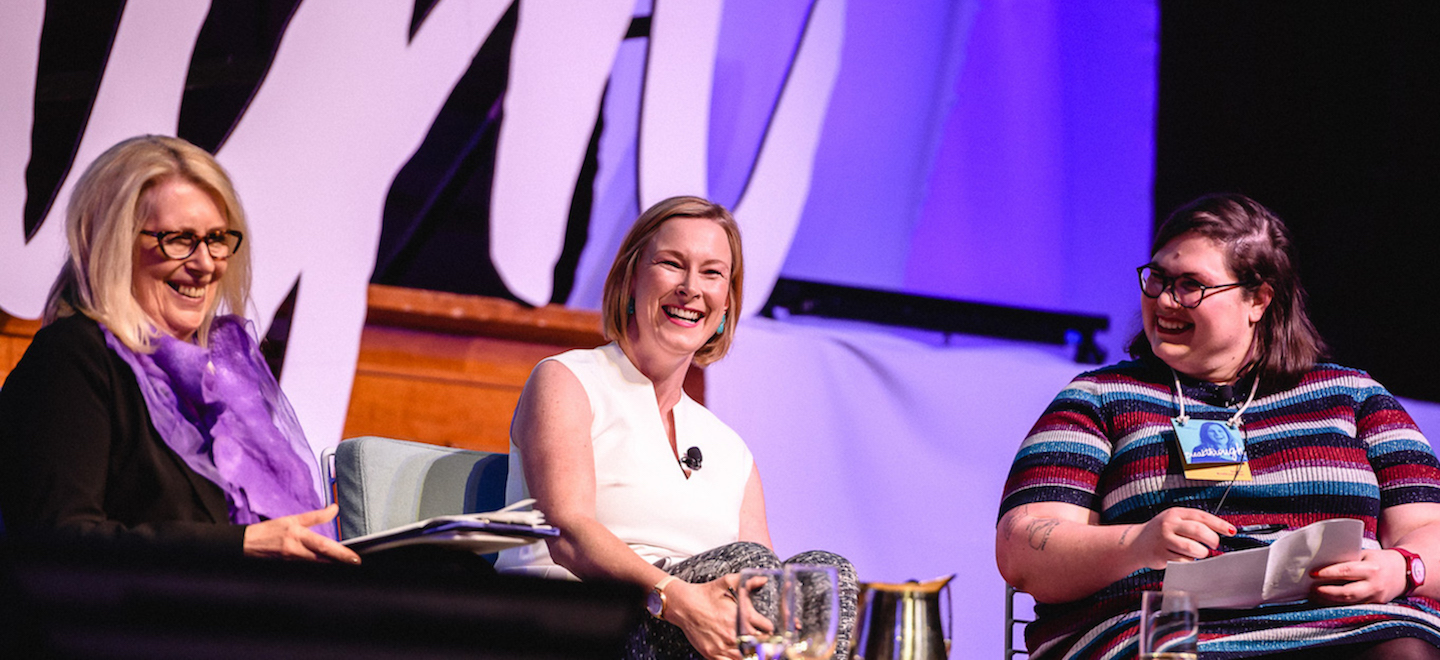 madly scribbling down Leigh Sales' five LIFE lessons
Host of ABC's 7.30 Report Leigh Sales gave a distillation of the lessons she gained from her years of toil as a foreign correspondent, political journalist and interviewing people on the best or worst day of their lives. "If there is any lesson [from that], it is to be grateful for the ordinary days."
Be prepared. Do the work.
Generosity and sincerity gets people a long way, especially in leadership.
Successful people think laterally. They are resilient when their first idea hasn't worked.
Genuine passion and a lack of pretension is infectious.
Change is a certainty. You cannot stop it. When it's going well you can enjoy it, but when it's going badly — you can grin and bear it.
Acc. to the Oxford Dictionary, 'boss' = man who has credibility and authority. 'Bossy' = woman is not credible" @Tara_Moss #Breakthrough2016 pic.twitter.com/Or1VlPrKlS

— Vic Women's Trust (@VicWomensTrust) November 25, 2016
Fighting the urge to burn the Oxford Dictionary with Tara Moss
On day two of Breakthrough, once MC Jan Fran had warmed the crowd she introduced Tara Moss author of Speaking Out: A 21st-Century Handbook for Women and Girls. Tara walked the stage, as she broke open the sexism in our everyday language, shelling out stats on the depressing dearth of women experts quoted in the media (especially on subjects like reproductive rights), explaining how these factors all contribute to rates of sexual assault and violence against women. There was a  real sense of outrage in the crowd — and judging by the mood on twitter — a total readiness to speak out. Speaking from personal experience, Tara spotlighted the media's response to survivors of sexual assault, noting their habitual use of language that served to diminish survivors and remove responsibility from perpetrators.
"Since I came out as a survivor of rape," said Tara Moss, "I often see my story referenced in the media as 'Tara Moss confesses she was raped'. I have nothing to confess. The people who should confess are the perpetrators. I have nothing to confess. I have no shame. If the man that raped me wants to speak out he can confess. But not I."
Tara finished by reminded us that just as speaking out for those who cannot is critical to social change, so too is self care. The movement will not survive if we let ourselves burn out. Duly noted.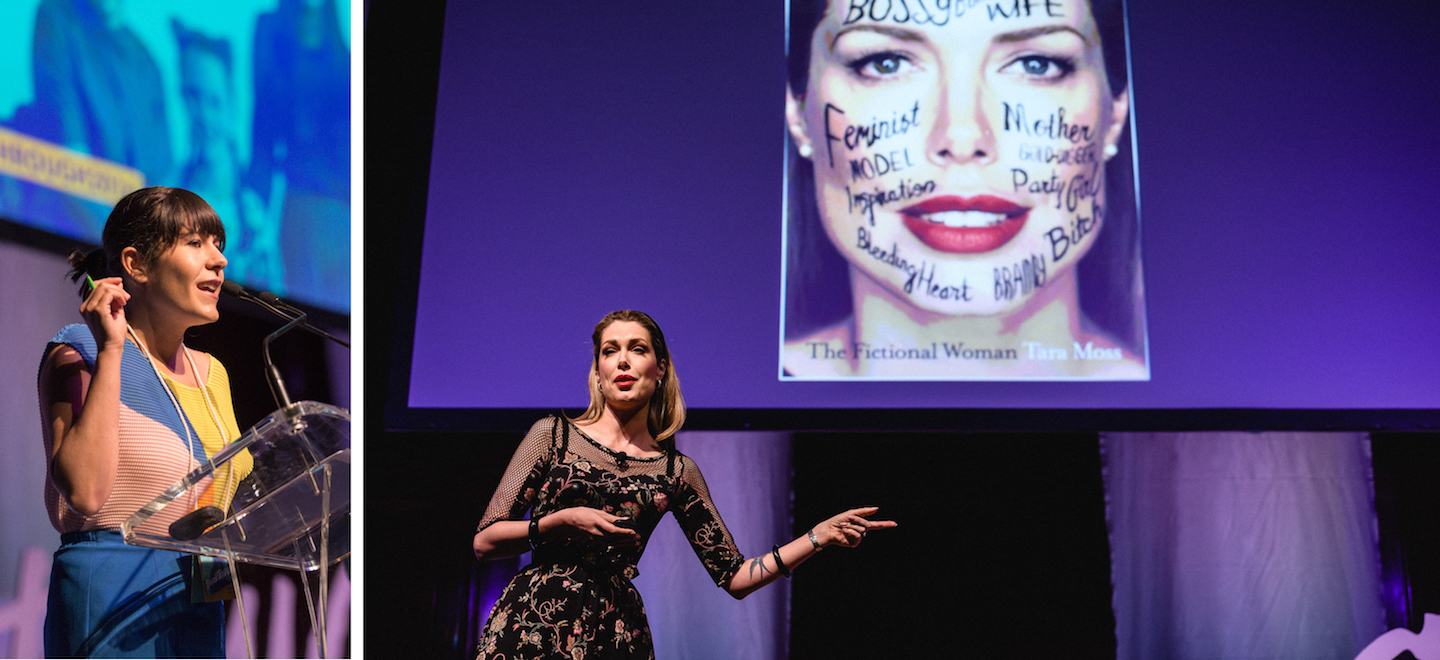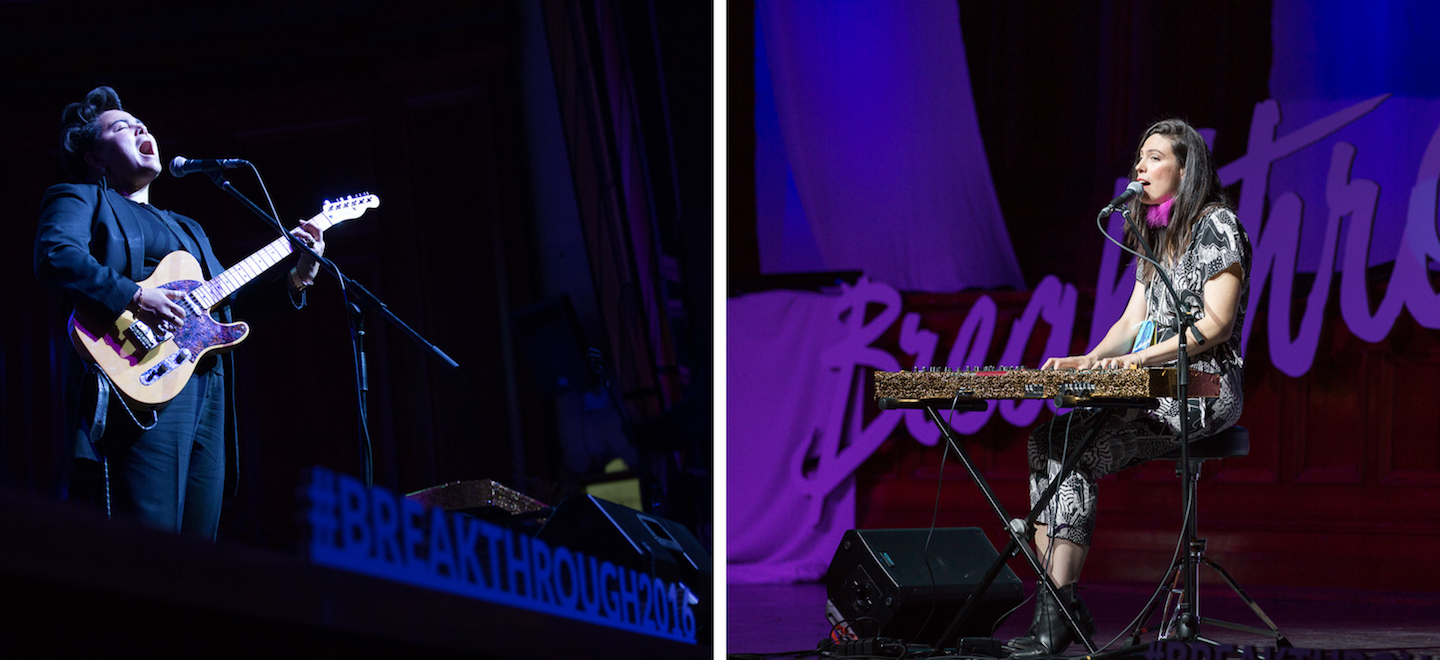 Downtime with friends: Judith Lucy & not one, but two choirs.
Each day, the room took on a festive air, as we gathered for music and performances. Judith Lucy told us tales of raw opium, men's underwear and pubic hair mishaps. Our ears were treated to dreamy sets from Georgia Fields, Mojo Juju and the Grand Magoozi, whilst book signings and happy snaps with literary heroes went on down the back of the hall. And who could forget the choral harmonies of the Brunswick Women's Choir and Prana Mob? Helen Reddy never sounded so sweet. *happy tears*
Judith Lucy just asked me if I have pubic hair 😂😂😂😂 #Breakthrough2016

— Jess Vovers (@JessVovers) November 25, 2016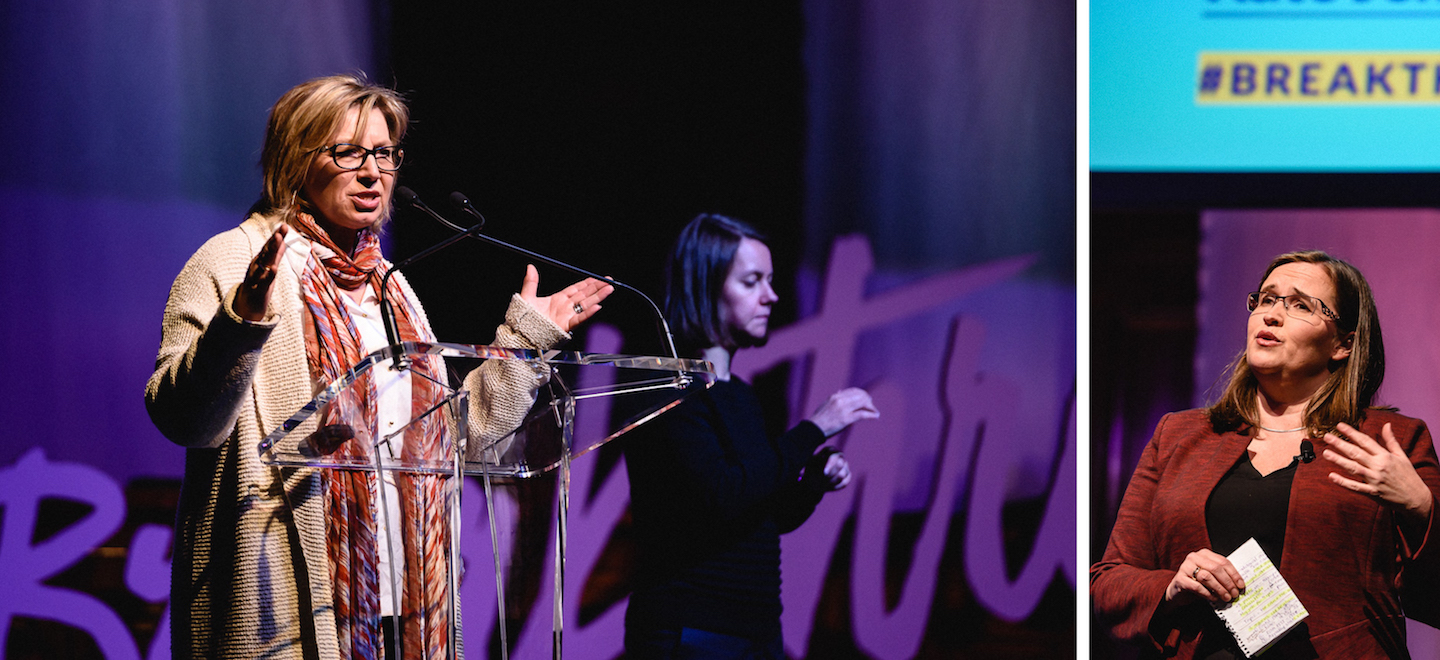 hard truths with Rosie Batty, Phil cleary & Kate Jenkins
Took years to change smoking attitudes & behaviours. We will need to do this for #FV & sexism @RosieBatty1 #Breakthrough2016 #VicForWomen

— Tanja Kovac (@TanjaKovac) November 26, 2016
Breakthrough was Rosie Batty's last speaking engagement for the year, which she felt was hugely significant. "It is so important for women to come together and share their power," said Rosie. Speaking to the full hall, the 2015 Australian of the Year and violence prevention campaigner spoke of her son Luke, tragically slain by his father, and the prevalence of family violence across our whole community. "It doesn't matter where you live, what your postcode is…domestic violence is not selective." Looking to the future, Rosie pointed to the falling rates of smoking due to consistent public health campaigns, concluding that the same can, and must be done for family and domestic violence.
Rosie's strong address finished with a moving video message from former footballer, politician, violence prevention advocate and broadcaster Phil Cleary. Phil shared his personal experience with gender based violence, which began when his sister Vicki was brutally murdered by her former partner. Phil drew on his years of experience as a campaigner, noting the powerful link between a woman's desire for freedom and the escalation of abuse.  "As women have expressed their desire for independence, they've been met with deep and dangerous resistance…Today we must affirm in all our institutions and in our culture, the right of women to pursue independence." (Note: the full video will be publicly released in the coming weeks.)
We must get that Phil Cleary vid on TV #Breakthrough2016

— RapapompomPassesItOn (@SallyRMelb) November 26, 2016
Sex Discrimination Commissioner Kate Jenkins spoke later that day on the theme of We Can + We Will, synthesising the ideas from the last two days and the need for a monumental shift. But first, she outlined the barriers, some of which stem directly from the upper echelons of the corporate Australia. "Last year there were more men called Peter than there were women in ASX200. This year there are more people called Peter and more people named Andrew, than there are women." This was met with gasps, a smattering of laughter, followed by a furious flurry of tweets. How could this be?
Jenkins also delved into the stark realities of Australian girls in families struggling to make ends meet. According to Jenkins' research, there is a whole cohort of girls today not finishing secondary education for reasons that ranged from lack of affordable menstrual products to dairy farmers pulling their teenage daughters out of school so they may work in the family business, often for little or no pay. It was a grim and necessary reminder of why breaking through across our society is just so incredibly important.

'The moment is now. We can, and we will, accelerate change if we do it together.' @Kate_Jenkins_ jenkins #Breakthrough2016 @VicWomensTrust

— Matt Wicking (@mattwicking) November 26, 2016
The winning combination of Marilyn Waring, Mary Crooks AO & Rachel Griffiths.
Breakthrough 2016 came to a close with three spellbinding talks. First we heard NZ political economist Dr. Marilyn Waring on sexist stats and the GDP, next was Rachel Griffiths' powerful surprise monologue on Hillary Clinton and the feminist mantel, and lastly, Mary Crooks AO VWT Executive Director, outlining our road map for the future.
Dr. Marilyn Waring kicked it off with an address that moved swiftly between humour and total outrage. Twitter was blowing up with people exclaiming how they had never considered the gender bias implicit in the GDP. Marilyn told us to "refuse data that treats women as homogeneous" and to remember that the economic data today "excludes the work of those who keep the world functioning" — namely, the unpaid work of women.
@MarilynWaring "GDP = grossly deluded propaganda. Let's just speak our reality and no more bullshit." (Crowd goes wild.) #Breakthrough2016

— Clare Wright (@clareawright) November 26, 2016
First post- #Breakthrough2016 act: borrowing Marilyn Waring's Three masquerades https://t.co/6ZcmgSQVW1 via @openlibrary

— Edith Hamilton (@EFHamilton) November 27, 2016
Actor and director Rachel Griffiths came next with a monologue that was both cathartic and confessional. She spoke of her horror and dismay at the US election outcome, with feeling that mirrored our own ("what do I tell my daughter?) and generation X's discomfort with the word 'feminist', all the while peeling back the layers on her own relationship with the movement. Rachel finished with the proclamation, "I'm sorry that I have not said this more often and more loudly; I am Rachel Griffiths and I am a feminist." She was met with immediate and furious applause.
#Breakthrough2016 Mary Crooks @VicWomensTrust Resistance and pushback means we are cutting through.

— Juliet & Sarah (@Feministingoz) November 26, 2016
To conclude proceedings, Mary Crooks AO took to the stage and the crowd responded with a standing ovation. Mary spoke of the impetus for Breakthrough 2016 "the moment Tony Abbott made himself Minister for Women", the signs that we were having a positive impact and the irrefutable fact, "gender equality delivers nothing but benefits." Everything we had heard, learnt and immersed ourselves in throughout Breakthrough 2016, was crystallised in Mary's closing remarks, "Gender equality is not an end point. Gender Equality is fundamentality a nation building project." This is our challenge — and Breakthrough 2016 shows that we are more than ready to meet it.
---
Huge thanks to everyone who attended Breakthrough 2016, our partners and donors, wondrous volunteers, staff, speakers, Wildwon, child care workers throughout the event, event caters and staff, Auslan interpreters and performers. Heartfelt thanks donors Ellen Koshland, Ricci Swart and Hilary Irwin. Together, we are making history.
KEY PARTNERS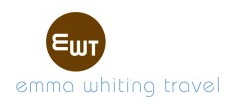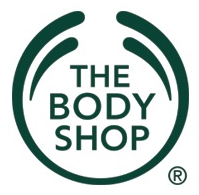 MEDIA PARTNERS





VIDEOGRAPHY PARTNERS


---
Photo credits (top to bottom, left to right):
Dur-e Dara OAM and Leanne Miller (Bri Hammond), Ella Hooper (Bree Dunbar), very young attendee (Bri Hammond) and Anne Summers AO (Bree Dunbar)
Crowd (Bri Hammond)
Dr Clare Wright (Bree Dunbar), Dr. Richard Denniss and crowd (Bri Hammond)
Tanya Plibersek (Bree Dunbar)
Life, Relationships and Money; Discuss Workshop participant (Hilary Walker), volunteer (Bri Hammond), Jessica Rowe in Seen + Heard session (Bree Dunbar), book stand (Bri Hammond)
Yassmin Abdel-Magied speaking in GRL PWR, day two program (Bree Dunbar), crowd and Celeste Liddle speaking in Justice for Indigenous Women session (Bri Hammond)
Leigh Sales with Anne Summers AO and Brodie Lancaster (Bree Dunbar)
MC Jan Fran (Hilary Walker) and Tara Moss (Bree Dunbar)
Mojo Juju and Georgia Fields (Hilary Walker)
Rosie Batty and Kate Jenkins (Bree Dunbar)
Dr. Marilyn Waring, Rachel Griffiths and Mary Crooks AO (Bri Hammond)