Executive Chef. Logistics Analyst. Nurse. Maintenance Supervisor. Taxi Driver. Nutritionist.
These are just some of the ways to better describe the unpaid work that is undertaken daily in the home, largely by women. The unpaid work that women do in caring for their families and managing the household is not valued in Australia. These old-world views contribute to women feeling under confident about their skills when looking for paid work. Whilst the onus should not be upon women to change stagnant attitudes about the real nature of work, women need to know that their contributions are valuable and have their skills recognised.
Our Breakthrough 2016 Major Partner Bank Australia, also recognises the importance of supporting women's economic security. As part of their ongoing work to address financial inclusion, Bank Australia has provided $10,000 funding to Women's Information Referral Service (WIRE) employment workshops.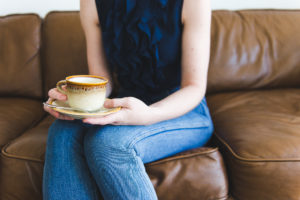 WIRE helps women to thrive by offering free advice and gender-specific training programs Victoria-wide for women who need it most. They've been in operation for over 30 years and continue to advocate for women on issues such as financial literacy, economic security, work-life balance and violence against women. Run by women for women, WIRE is one of the leading organisations in the corner for women — which is why Bank Australia has funded WIRE employment workshops. It's a timely and necessary step.
Speaking to Bank Australia's On Purpose podcast, Julie Kun, CEO of WIRE shared that these free workshops help women who, "may have had a career break and need to build their confidence to re-enter the workforce. They see themselves as just a mother, just a home maker and that really scuttles the chances they have of promoting themselves in the best possible way."
"We invite presenters from the recruitment industry who discuss essential and yet vital aspects of the job search. We know that it is not an easy environment and it's hard to talk about the challenges these women are facing, but we hope with these workshops we are building up their confidence," says Kun.
Having also given community grants to WIRE on three separate occasions, we are unsurprised by these results. It is typical of the dedicated advocacy work of WIRE, an organisation that continues to thoughtfully address the specific needs of women in new and innovative ways. Projects such as this are so necessary in the push for gender equality in Australia. No, these women are not 'just a homemaker' or 'just a mother'. They are people whose hard work is propelling our nation forward — and it's time it was recognised as such.
---
Ally Oliver-Perham
Ally is a long time Victorian Women's Trust team member, in charge of VWT's digital advocacy and engagement. You can read more of her writing on the VWT blog and other Trust publications. Alongside Georgie Proud, Ally developed RosieRespect.org.au a curated info hub for teenage girls. Rosie is chock full of advice, articles, videos and more, all from a feminist perspective. When she's not at the Trust, Ally can be found bush walking with her dog Scout.