If you're up-to-date with the goings of the Victorian Women's Trust (VWT), you've probably already heard of Alice Lindstrom. She created the central artwork for our 2018 fundraising appeal, 'When She Rises, We all Rise', and the cover of our most recent Annual Report. We're delighted to have her back on board for our upcoming book, About Bloody Time: the Menstrual Revolution We Have to Have, for which she created the cover (right) and motifs throughout.
Alice is a creator of vibrant collages. Her artistic process involves a blend of watercolour, illustration and crafts. For Alice, it's all about painting on separate paper beforehand and then cutting them into shapes to compose shadows, silhouettes and shades. This layering method means that every petal on a flower and every feather on a bird is unique, and you'd be forgiven for thinking that you were looking at a painting.
Alice's paper collages are joyous and serene, prolific with native Australian fauna, pot plants and cute animals. Beyond all the leafy-ness is the marvellous women of her art. It's the best when women are represented as comfortable with themselves and the world, and in Alice's artwork, they're absolutely blooming.
We had to a chat to Alice about her art and working with the VWT.
Describe yourself in three words.
Thoughtful and easily amused.
What are your motivations for getting involved with About Bloody Time?
I want to support the Victorian Women's Trust because they do
wonderful work to empower young girls and women in the community. When I found out that About Bloody Time was in the works something clicked. I thought back to all the shame and stigma relating to my period that I experienced as a teenager and young woman and how these same attitudes are borne out in the wider culture. 'About Bloody Time' is something I wish had been around when I was a teenager. I want to support the dismantling of misogynistic attitudes to periods and by extension, women's bodies, in any way I can.
Women from all kinds of backgrounds, GNC people and their bodies are the focus of many of your images. Why?
I am continually drawn to female and GNC centric imagery in my work. I suppose in part it comes out of my own experience. I am also conscious of making my work as inclusive as possible and also creating imagery that does not play into sexist ideals of how women should look, behave and be seen.
What was going through your mind as you were making these artworks for About Bloody Time? I wanted to make beautiful, celebratory and bodily imagery that celebrated menstruation for the awe inspiring biological process it is.
Finish this sentence: "Periods are…."
Periods are a wonder of nature.
---
We're excited to feature Alice's artwork in the VWT's new book about menstruation About Bloody Time: the Menstrual Revolution We Have to Have. Take a look at her projects on her website and keep updated here.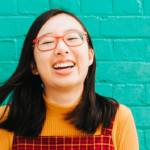 Casey Duong
Casey is studying Arts/Law at Monash University and volunteers at the Victorian Women's Trust, working on capturing stories for VWT's upcoming annual report. She is passionate about storytelling and is always wondering when she'll next eat her grandma's spring rolls.