Aimee Carruthers is the kind of lady who wears many hats, and boy, does she wear them well. She does illustration, photography and art direction, and used to be a magazine designer at Frankie magazine. On a regular basis, Aimee dons a red swimsuit and hits the pool to raise awareness about periods as part of the menstrual synchronised ballet squad, The Clams.
Aimee has a real knack for creating. Her designs are a fun daydream, vibrant yellows and pinks and greens popping out in props and outfits to create a quirky visual aesthetic.
Aimee channels her passion for periods awareness into her synchronised swimming group, The Clams, which she describes as "a sassy, feminist water ballet squad making waves in Melbourne". Absolutely unstoppable when it comes to clams and period puns, the swim-dance squad collaborate with community choreographers to create socially-aware performance art with a feminist focus. Expect floatie tampons, cute red bathers and lots of body positivity.
She is also the book designer of About Bloody Time: the Menstrual Revolution We Have to Have, our upcoming book about menstruation and menopause. We chatted to Aimee about periods and what it means to be a Clamgel.
What are your motivations for getting involved with About Bloody Time?
I grew up with a poor relationship with my period. It turned up without any introduction and proceeded to ruin my life (and my pants). I've felt confused, inconvenienced, embarrassed and ostracised by it. When I was 19, I was nearly thrown out of my house after the discovery of a stray pad, wrapped in 3km of toilet paper, mindlessly left in the bathroom. I've only recently come to realise that a lack of information about and deep stigma to periods was the main culprit in my trouble with them. I'm now determined to help undo that damage wherever I can.
You are known for your work as a leading Clamgel for the Clams. For the uninitiated among us, who are the Clams?
The Clams are a 40-strong squad of pun-loving feminist water ballerinas from Melbourne. We are best known for our sell-out show Crimson Tide, where we swam the story of the menstrual cycle to tunes from Peaches, Joan Jett and Beyonce. We exist to challenge stigmas around women's bodies and create a joyous atmosphere that allows people celebrate and feel proud of a completely natural and wonderful part of themselves. Through our clampaigning on Instagram, we've taken on the tampon tax and helped raise money and awareness for Share the Dignity.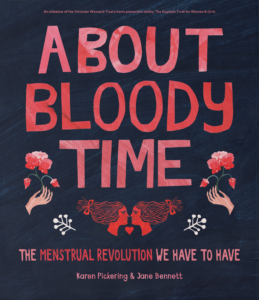 What are your hopes for About Bloody Time?
I hope it starts a revolution to normalise menstrual care. Imagine not having to hide your sanitary products? Imagine if they were just as commonplace as tissues and toilet paper? Imagine if there was always a bin!
Finish this sentence:
"Periods are…." very welclam.
---
You can anticipate Aimee's wonderful book designs in the VWT's book 'About Bloody Time: the menstrual revolution we have to have'. Her creative work can be found at her website.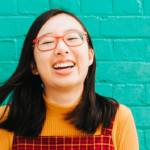 Casey Duong
Casey is studying Arts/Law at Monash University and volunteers at the Victorian Women's Trust, working on capturing stories for VWT's upcoming annual report. She is passionate about storytelling and is always wondering when she'll eat her grandma's spring rolls next.