In recent years, the voices of survivors and activists, through campaigns such as #MeToo, #TimesUp, #Niunamenos, #NotOneMore, #BalanceTonPorc and others, have reached a crescendo that cannot be silenced any more. Advocates understand that while the names and contexts may differ across geographic locations, women and girls everywhere are experiencing extensive abuse and their stories need to be brought to light.

- UN Women
November 25 is International Day for the Elimination of Violence Against Women. This is an important date marking the beginning of 16 Days of Activism, culminating in Human Rights Day on December 10. This year's theme is Orange the World: #HearMeToo.
The seed of the idea to raise awareness around violence against women and girls started in 1991 at the Women's Global Leadership Institute. It was there that 23 female civil society leaders from all over the world decided they wanted to spark international action on the issue and build connections that would enable countries to work together to eliminate gender violence worldwide. This grassroots idea has translated into more than 5,167 organisations worldwide organising around the 16 Days of Activism campaign in over 187 countries.
16 Days of Activism is all about getting involved in your community. By coming together on this important issue, we will begin to move forward.
Here are some ways you can get involved:
We can all do something, no matter how small, to help eliminate violence against women and girls.
Lastly, remember that your health and well being are much more important than any activism work. If you are feeling burnt out, reach out!
Contact any of these  support services if you, or anyone you know needs someone to talk to:
SAFE STEPS For confidential support and information call 1800 015 188 family violence response line 24/7.
MEN'S REFERRAL SERVICE (MRS) – 1300 766 491 MRS provides anonymous and confidential telephone counselling, information and referrals to men, to help them take action to stop using violent and controlling behaviour. 
KIDS HELPLINE – 1800 55 1800 Kids Helpline is a counselling service for Australian children and young people aged between 5 and 25 years. 24/7 phone and online services. 
MENS LINE – 1300 78 99 78 Professional support and information service for Australian men. 24/7 phone and online services. 
FAMILY RELATIONSHIPS ONLINE – 1800 050 321 (Mon-Fri 8am-8pm, Sat 10am-4pm) provides all families (whether together or separated) with access to information about family relationship issues, ranging from building better relationships to dispute resolution.
1800 RESPECT – 1800 737 732 The national sexual assault, domestic and family violence counselling service. 24/7 phone and online services. 
Feature image design by Sinéad Murphy of Lovelock studio with support from Warrnambool City Council and Warrnambool Art Gallery.
---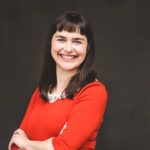 Casimira Melican
Casimira Melican is the lead policy researcher at the Victorian Women's Trust and a regular contributor to the VWT blog. She has co-written submissions to the Victorian and Federal Governments on diverse topics such as women's superannuation, paid parental leave and women's leadership. As you can see, she is pretty pleased that her choice of wearing orange for her headshot has paid off! #GoOrange
Follow on Twitter @CasimiraMelican or LinkedIn @Casimira Melican