With her 5-year term as President of the Australian Human Rights Commission coming to a close we wanted to celebrate Professor Gillian Triggs, a woman who has undertaken her role with grace and leadership in promoting the human rights of all Australians. Although I'm sure we could find 100, here are 10 times Gillian made us proud.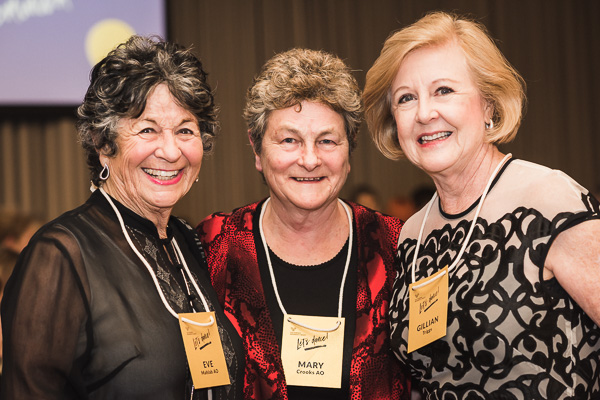 Eve Mahlab, Mary Crooks and Gillian Triggs Photo: Breena Dunbar
 1. That time she launched a National Inquiry into Children in Immigration Detention in 2014 to "investigate the ways in which life in immigration detention affects the health, well-being and development of children."
2. When she defended the Inquiry's report The Forgotten Children against political attacks, which found that the practice of holding children in detention was not only in breach of international human rights law but also detrimental to children's health and wellbeing.
3. Remember when the Abbott Government were calling for Gillian Trigg's resignation after she released The Forgotten Children? In January 2015, the Government said that they had lost all confidence in her as Commission President. This is what she had to say in response to these attacks, 'Were I to receive… warm and congratulatory words from the Government on a consistent basis, I think the taxpayer would be justified in my resignation, because I wouldn't be doing my job.'  Way to stand strong.
4. When she was nominated by thousands of people and won 2015 Woman of the Year by Daily Life. When describing why they were nominating her, readers pointed out her "integrity", "guts", "grace" and "dignity" in the face of what many described as "bullying" by the Abbott Government (see number 3).
5. That time she called for marriage equality, 'It is time for us to move to genuine equality in marriage for all Australians.'
6. When she told us that sexual harassment, especially in workplaces, needs to stop, 'After all, being free from sexual harassment is a basic human right.'
7. When she called out the sexism she faced during her tenure with political attacks from the Coalition Government continuously criticising her for defending the human rights of children, asylum seekers, and more recently, Yassmin Abdel-Magied, 'I am coming to the view that they have been able to say things about me, and attack me, in a way that never would have happened to a man. And I am sorry to that, but it's true.'
8. When she defended the attack on Yassmin Abdel-Magied after her ANZAC Day post and called out the racist undertones to the attack, 'The headscarf has become a lightning rod for attacking Muslim women.'
9. When she reminded us that we can never stop fighting for an equal and inclusive society, 'there has never been a more important time to stand up for laws which prohibit racial abuse in the public arena.'
10.  When she was named the 2017 recipient of the Voltaire award by Liberty Victoria early in May for her "courageous stand on people's rights". 
Thank you for everything that you have done for human rights, especially women's human rights Gillian. You have shown us that we can stand up for what we believe is right, no matter how much criticism we face, and do it with a huge amount of grace. You get the Victorian Women's Trust Badge of Courage Award!
We can't wait to see what you do next and here's to many more female leaders who are unafraid to speak the truth!
We also welcome the Commission's next President, Emeritus Professor Rosalind Croucher AM, you can read about her here.
---
Casimira Melican
Casimira Melican is the lead policy researcher at the Victorian Women's Trust and a regular contributor to the VWT blog. She has co-written submissions to the Victorian and Federal Governments on diverse topics such as women's superannuation, paid parental leave and women's leadership. She has been in love with Gillian ever since she heard her speak back in 2014.
Follow on Twitter @CasimiraMelican or LinkedIn @Casimira Melican